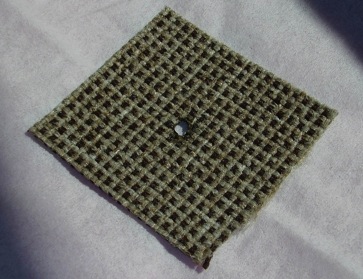 In most cases, the only way to fix a cigarette burn hole in a car seat is to replace the entire panel of material affected by the damage. Upholstery Journal, however, recently published an interesting how-to guide by retired upholsterer Claudette Sandecki on repairing burn holes without changing the panel. The technique works best with fabrics that feature loosely woven threads and aren't coated with stabilizing glue on the backside (like tweed).
To do the repair, Upholstery Journal says that all you need is:
50-foot extension cord
Gooseneck desk lamp
Hands-free magnifying glasses, 3X or stronger
Five-inch curved, sharp point needles
Regular scissors
Cuticle scissors
Tweezers
Surely you've got the tools – so give it a shot. Read the entire how-to guide: "Fix a Fabric Burn Hole with this Invisible Mending Technique."
Keep in mind that Sandecki's technique doesn't work on many common vinyls and leathers. Where it does work, however, it's definitely worth employing. "Invisibly mending a burn hole—or any reasonable sized damage—is a good option for many reasons," explains Sandecki. "If the fabric can be rewoven, doing so can save your customer yards of fabric, hours of reupholstering, the hassle of hauling the damaged piece to your shop, the inconvenience of doing without the piece while you have it for repairs, and money."
— — —
The Hog Ring is the #1 online community for auto upholstery professionals and enthusiasts. Here you can browse pictures, read news and connect with others who share your passion for auto upholstery. You can even check us out on Facebook and Twitter!