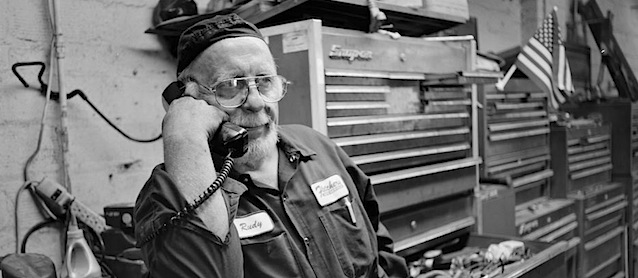 It sounds silly to think that we may need help talking on the phone, but you'd be surprised by how often costly mistakes are made. When it comes to selling a job, a simple slip of the tongue can cost you money.
Below are five simple tips for effectively communicating with customers over the phone.
Even if you don't need help in this department, maybe some of your coworkers or employees do – so feel free to forward this article along.
1. Start with a professional greeting
Never answer the phone just by saying "hello". A professional greeting – like "Jim's Auto Upholstery. This is Jim, how may I help you?" – not only ensures your customers that they've dialed the correct number, but also conveys a sense of professionalism.
2. Educate your customers  
Many customers think that jobs are much simpler than they actually are – which is why some act shocked when they hear our prices. However, explaining the steps you'll need to take in order to carry out a service can help justify the cost.
From personal experience, I know that customers appreciate the little bit of knowledge that we share with them. It makes them feel confident that we know what we're doing and that our prices are fair.
3. Watch your tone
Be aware that your tone of voice is just as important as the words you speak.
Being sarcastic or condescending to customers while attempting to educate them can be offensive. Answer their questions – no matter how silly they may be – politely and professionally.
Difficult customers are especially deserving of professional treatment. After all, they're the ones most likely to go about ruining your reputation.
4. Provide incentives for callers to come in
Most callers are looking for a quick price quote. But aside from headliners, auto upholstery work is too specialized to give estimates over the phone. How many times have you heard this: "I'm looking to get a full custom interior in my car. How much is that going to cost me?"
Don't get duped into giving a price quote over the phone. When the car comes into your shop, it'll most likely need a lot more work than what the customer let on – yet he'll still try to hold you to the quote.
Instead, provide incentives for customers to bring their cars in. Tell them that you have samples of material for them to see and feel, and that you'd like to discuss the design process with them more in depth. If your in-person estimate is free, let them know.
This could only work to your advantage, as it's much easier to sell a job in person than over the phone. So set that appointment!
5. Remember the facts
Don't hang up before telling customers the vital facts they'll need to come in for an estimate. These include your business hours, address and directions if necessary. If you scheduled an appointment for them to come in, confirm the date and time.
Also, remember to end just as professionally as you started: "Thanks for calling Jim's Auto Upholstery. We hope to see you soon."
Once the customer has arrived, it's up to you to make the sale. Just remember that the hardest part is over. If they're at your shop, they're serious about having their car's interior repaired.
What do you think? Have any tips to add? Or maybe you have a related story to tell? Share it in the comments section below.
Also, check out our article: 5 Ways to Handle Difficult Customers