If you're tired of having to undo rolls of fabric to determine how many yards are left, then check out this great online calculator by Handy Math. Simply enter three easy-to-get figures and it'll tell you how much material is on a roll without you having to measure it all by hand.
I recently tested the calculator for accuracy on a brand new roll of vinyl with exactly 11 yards on it. As requested by the calculator, I plugged in (1) the outside diameter of the roll, (2) the diameter of the center hole, and (3) the thickness of the material. To get these figures, I used digital calipers.
On the first try, it calculated that the roll had a little over 11 yards of vinyl. I tested the calculator a few more times on various rolls in my auto upholstery shop and found that it was always within a half yard of the correct measurement. I got the best results when I entered my figures in millimeters.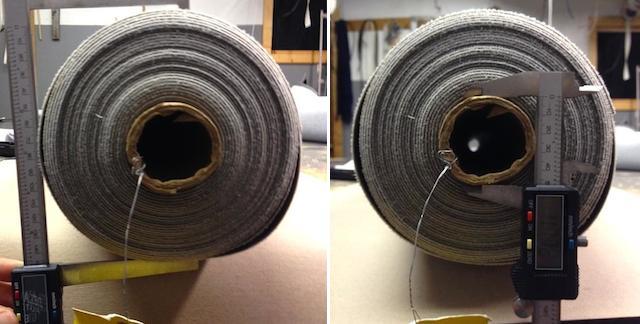 The calculator never rendered the exact measurement, but that's understandable. After all, the rolls and the inner holes aren't always perfect circles. Also, I was using a cheap pair of Harbor Fright calipers as opposed to high-quality ones.
Nonetheless, I was impressed. This handy calculator is accurate enough to help out around the shop — especially when double-checking a supplier's shipment or making sure you have enough material to finish a job.
Best of all, the calculator is available in two handy smartphone formats that you can keep open on your phone's browser. Click here to try it out.