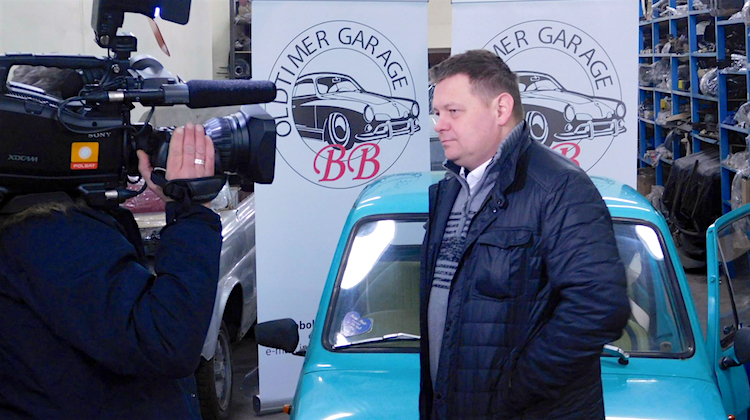 Journalists, especially those who work for local newspapers, TV channels and websites, are always searching for interesting stories to cover. So why not pitch them one about your auto upholstery shop?
It's a great way to promote your business and make contacts within your local media market, which may come in handy as your shop becomes more succesful.
The process of pitching a story to a journalist is really simple. It boils down to 5 simple steps:
1. Identify an interesting story
Take a few moments to think about why someone would want to read an article about your auto upholstery shop. For example: Do you have an interesting backstory? Did you just complete a rare or unique project? Are you hosting a car show or fundraiser? Did you recently win a prestigious award?
If it's a story you find customers discussing on a regular basis, then chances are the wider public would also be interested.
2. Craft your story pitch
A successful pitch is timely, concise and doesn't leave out any important details. It provides the who, what, where and why of a story. It also answers the question: Why should anyone care?
Here's an example:
My name is Bret Campbell of Bret's Auto Upholstery in downtown Houston. I want to let you know that I'll be hosting a free workshop every Saturday this month from 12 pm to 5 pm for local residents whose cars may have been flooded by Hurricane Harvey. The purpose is to teach them how to dry, clean and repair their interiors before mildew sets in and decreases the resale value.
I'd love for you to attend one of the workshops and consider writing a story about what you see and hear. Together, we can help a lot of community members still reeling from these devastating floods.
Notice the pitch also portrays a sense of urgency, which can help you receive a prompt reply.
3. Identify journalists to pitch to
Pick up a copy of your local newspaper and skip to the business section. Read the bylines to find out who writes about local businesses. Once you have a name, find the reporter's phone number or email address on the newspaper's website. If it's not listed, just go to the contact page and get the general office number.
You can do the same for TV channels and websites, including The Hog Ring. Because journalists are public figures, their contact information is usually pretty easy to find.
4. Introduce yourself and make your pitch
Once you have the name and contact information for the journalists you want to pitch your story to, reach out to say hello and make your pitch.
If you're pitching over the phone or in person, be friendly but also brief. Most journalists work under tight deadlines, and so they don't always have time to shoot the breeze.
If a journalist declines to cover your story, that's okay. Ask him or her to save your contact information for future stories, and move on to the next journalist. Eventually, someone will bite.
5. Help journalists do their job
The easier you make a journalist's job, the more likely it is you'll see your story covered in local media.
Among the things you should do: Make yourself available to answer all questions, provide a list of names and contact information for folks integral to the story and provide high-resolution photos for use.
Because of their tight deadlines, you should give journalists your direct contact information and respond to their inquiries as quickly as possible.
The key is to make the whole process as pain-free as possible for the journalists.
For more business tips and advice, check out The Hog Ring's "Better Business" section.