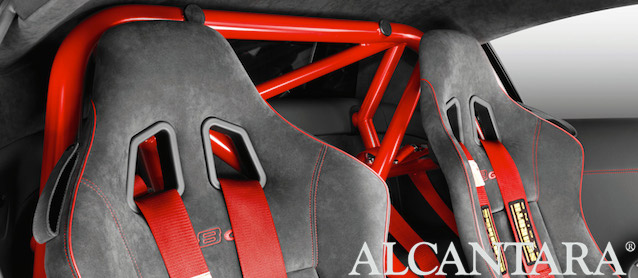 Curious why Alcantara is so expensive? Turns out the answer has as much to do with logistics as it does with quality and brand marketing.
In a recent article about the 2016 Nissan Maxima, which now features an Alcantara-wrapped interior, Automotive News explains that the Japanese automaker had to overcome a number of logistical obstacles to procure the popular synthetic suede-like fabric for use at its manufacturing plant in Smyrna, Tennessee.
Below is an excerpt from the article:
Feeding the material into a production line in Smyrna, Tenn., with its carefully choreographed just-in-time suppliers, was not as simple as issuing a purchase order. The material is exclusively produced by Alcantara. The company is headquartered in the fashion capital of Milan, Italy, and keeps 100 percent of its manufacturing there under close watch.
Alcantara stepped up efforts to market to automakers in 2008. But unlike other European and Asian automotive suppliers, it has shown no interest in localizing production to be closer to its customers.
Dave Kalinowski, Nissan North America manager of seat engineering, was heavily involved in the Alcantara plan from concept to final sourcing. Early in the project, Nissan broached the subject of whether Alcantara would — or should — offer Nissan localized fabric output, Kalinowski says.
As a rule, Nissan hates transportation costs. Nissan has been on a campaign to localize production of as many of its parts as possible and is even urging its U.S. suppliers to move closer to Smyrna.
Against that backdrop, the decision to source interior parts from a posh fashion supplier 5,000 miles away in Milan might look like a contradiction. But Kalinowski says there is more to it than logistics.
"We wanted to maintain our exclusivity. We were willing to go halfway around the world to get it. If they moved production here or to a place like Mexico, anyone would be able to get it at a lower cost. We'd lose our advantage over competitors like the Chrysler 300 or the Toyota Avalon. They'd be able to get the same material at the same price."
The resulting arrangement is that Nissan holds upfront negotiations with Alcantara and establishes the purchase orders. The material is sent in bolts by ship from Italy. It is received by Nissan's local Maxima seating supplier, Tachi-S Automotive Seating USA, which processes the Alcantara into seat and trim pieces at its plant in Mount Juliet, Tenn.
Other solutions might have been easier, the Nissan team acknowledges.
"We could have simply used leather instead of the Alcantara," Kalinowski agrees. "There is additional cost involved with the Alcantara. But there was more to it than that. The Alcantara brand name itself brings value to the car."
Although not original, the idea of refusing to localize production to keep prices (and notions of exclusivity) high is pretty ingenious. Taking a Japanese product and manufacturing it in Italy to up its panache is also pretty slick.
But manufacturing origin aside, nothing changes the fact that Alcantara is a high-quality product that's amazing to work with.
To read the full article, see "Nissan inspired by high-end fashion."