We're excited to introduce The Hog Ring community to our newest site sponsor: Alcantara — one of the most popular and versatile fabrics in the auto upholstery industry.
Alcantara is renowned for its soft, suede-like feel, pliability, and resistance to water, UV light, and harsh temperatures.
Of course, it looks damn sexy too, especially when matched with a premium leather.
Naturally, Hydes Leather is their official distributor to North America, supplying the industry with automotive-grade Alcantara.
"There's a reason why show cars around the world are trimmed in Alcantara," said Aaron Laithwaite, founder and CEO of Hydes. "It's a first-rate fabric that makes every interior look amazing and feel luxurious."
Hydes stocks 45 colors of Automotive Alcantara, 74 colors of Avant, and offers the fabric in six forms – including Alcantara Cover, Alcantara Panel, Alcantara Avant, Alcantara Multilayer, Alcantara Exo (outdoor) and Alcantara Perforation. Each form has its own specific use application, from steering wheels to seat covers.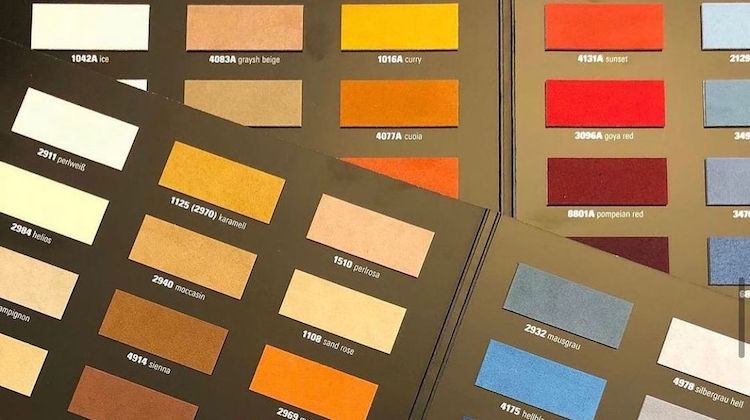 Alcantara SpA, the Italian company that makes the fabric, is constantly developing new colors and prints for the automotive industry — all of which are sustainable. In fact, Alcantara is one of the few automotive fabrics that's 100% carbon neutral.
Best of all, Alcantara SpA is a huge supporter of crafts people, regularly sponsoring projects, shows and contests that promote and encourage innovative designs.
"Today's trimmers are creating some of the best interiors the industry has ever seen," Laithwaite said. "Many of them include Alcantara."
"We're excited for how Alcantara's sponsorship of The Hog Ring will encourage trimmers to continue pushing the boundaries of what's possible."
To learn more about Alcantara, visit alcantara.com. You can check out their full automotive range and place an order with Hydes Leather at hydesleather.com.