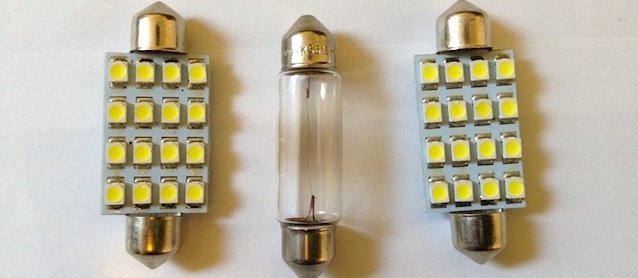 Lately, while recovering headliners, I've noticed that an increasing number of my customers are switching the bulbs in their dome lights from standard incandescent to LED. Curious about the difference, I figured I'd give it a try too.
After doing a bit of research, I ordered a pack of 10 LED bulbs off of Amazon.com for around $10. Because my dome light has plenty of room to accommodate a larger bulb, I opted for the 16 SMD, which features 16 individual lights.
Just like any other bulb, the LED installed in a matter of seconds. However, its advantages were immediately noticeable. The LED shines white, not yellow, and is much brighter than traditional bulbs — which makes it easier to see the fine details of a custom interior, especially in photographs.
I don't yet see any drawbacks — but it's only been a week. I'm particularly interested to see how long the new bulb lasts. One of the biggest selling points of LEDs is that they supposedly last longer than incandescent bulbs. The ones I bought boast a lifespan of 50,000-lit hours. Time will tell…
In the meantime, I'm curious if anyone else in The Hog Ring community has made the switch. And, if so, what are some of the pros and cons you've noticed?