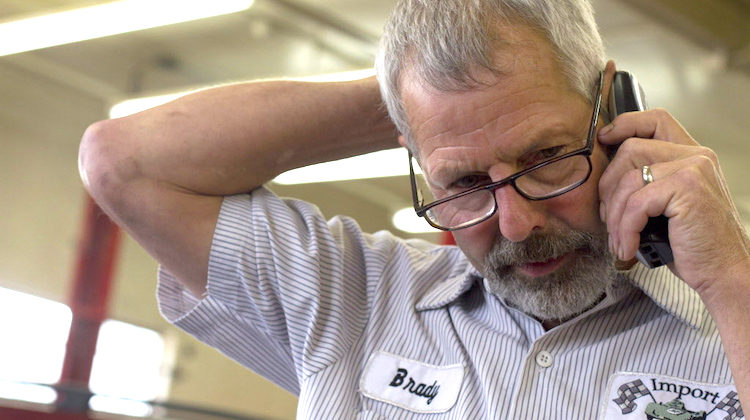 Everyone that calls your auto upholstery shop is a potential customer.
That's why it's important to always speak professionally on the phone — regardless of how busy (or annoyed) you might be.
A simple slip of the tongue or even an unkind tone can end up costing you money and even hurting your shop's reputation.
Fortunately, that can be avoided by following these six simple tips:
1. Start with a professional greeting
Never answer a business call with a lone "hello." Instead, try something like this: "Brady's Auto Upholstery. This is Brady speaking. How may I help you?"
This type of greeting let's potential customers know they dialed the correct number and are speaking with someone important. What's more, it conveys professionalism.
2. Educate the customer
Many customers think that jobs are much easier than they actually are — which is why some act shocked when they hear our prices.
Rather than get defensive, explain the steps you'll need to take to complete the service. This will put them at ease and justify the cost. 
From personal experience, I know that customers appreciate the little bit of knowledge that we share with them. It makes them feel confident that we know what we're doing and that our prices are fair.
3. Watch your tone
Be aware that your tone of voice is just as important as the words you speak.
Being sarcastic or condescending to customers while attempting to educate them can be offensive. Answer their questions — no matter how silly they may seem — politely and professionally.
Difficult customers are especially deserving of professional treatment. After all, they're the ones most likely to go about ruining your reputation.
4. Provide incentives for them to visit
Lots of callers are just looking for a quick price quote. But most auto upholstery work is too specialized to give quotes over the phone.
Don't get duped into giving blind quotes. When the car comes into your shop, it'll most likely need a lot more work than what the customer let on — yet he'll still try to hold you to the quote.
Instead, provide incentives for customers to bring their cars in. Tell them that you have fabric samples for them to see and feel, and that you'd like to discuss design ideas in more detail. If your in-person quote is free, let them know.
This could only work to your advantage, as it's much easier to sell a job in person than over the phone.
5. Schedule an appointment
Once you provided an incentive for customers to visit, go ahead and set an appointment.
"Stop by anytime before 6pm" is no good because it's non-committal. It makes potential customers feel like they're not letting anyone down by not showing up.
Customers are more likely to visit if you actually set a date and time.
"Okay Frank, we'll see you on Tuesday at 3pm." Doesn't that seem more firm?
Most customers, not wanting to be jerks, will actually keep the appointment.
6. End with a professional farewell
The way you end a call is just as important as how it starts.
Never end with a lone "goodbye" or "see you later." Instead, try something like this: "Thanks for calling Brady's Auto Upholstery. We hope to see you soon."
This type of farewell reminds customers that you're a true professional.