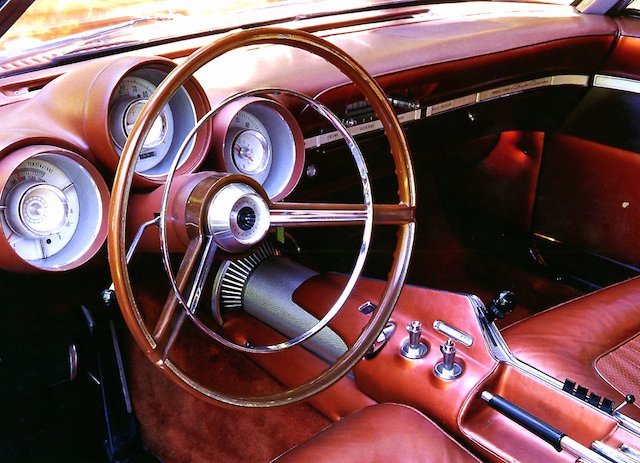 Check out the center console in the 1964 Chrysler Turbine. This car is 1 of 55 ever produced, and only 1 of 9 still in existence today.
Between 1962 and 1964, Chrysler Corporation manufactured 55 automobiles powered by gas turbine engines. None were made available for sale to the public, as the limited run was for research purposes only. Chrysler was attempting to perfect a practical-use engine that could run on anything combustible — from diesel fuel and unleaded gasoline to vegetable oil and even tequila and Chanel No. 5 perfume (or so they bragged).
Keeping in theme with the vehicle's unique engine, Chrysler's engineers sprinkled its exterior and interior with a number of turbine-esque design cues — including its headlights, taillights, chromed-out bumpers, hubcaps, dashboard gauges, and, of course, center console.
To learn more about the Chrysler Turbine, watch the following video by Jay Leno's Garage. Skip to 17:00 if you're only interested in the interior.