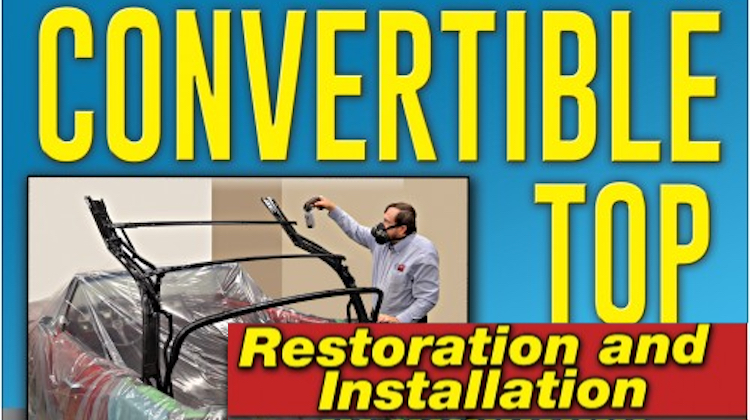 Installing convertible soft tops is one of the most technical aspects of our craft. Forget one step or do it incorrectly and the entire job can be ruined.
Fortunately, veteran trimmer Fred Mattson wrote a convertible top guidebook that you can rely on for help.
"Convertible Top Restoration and Installation," published by CarTech, is a must-read for all trimmers looking to expand their knowledge and expertise in convertible top installation.
Trimmers who own Fred's first book, "Automotive Upholstery & Interior Restoration," will recall that it has a chapter on convertible top installation. However, his latest book provides more comprehensive instructions.
In "Convertible Top Restoration and Installation," Fred examines the many styles of convertible tops and instructs readers on how to repair them. The book covers common one-piece and two-piece convertible tops, as well as unique ones like the scissor top and classic 4-door Lincoln Continental convertible. There's even an entire chapter dedicated to fabricating convertible tops from scratch.
The guidebook is 176 pages, and covers every aspect of convertible top repair and maintenance — including tools you'll need, topping materials, weatherstrip, tack strip, frame repair and alignment, hydraulic power-top systems, and more.
Of course, the book includes loads of color photos and step-by-step instructions that make it easy to follow along.
I believe this to be the most comprehensive guidebook on convertible top installation ever written, benefiting novices and veterans alike. Without a doubt, every trim shop should own a copy.
Having met Fred on numerous occasions, I know first-hand how passionate he is about sharing his expertise with other pros, and teaching the next generation of trimmers the proper techniques of the craft. His many years of experience as owner and operator of Convertible Tops and Interiors by Fred, combined with his ability to clearly articulate complex instructions, make him well-suited to write such an important book.
"Convertible Top Restoration and Installation" is truly an invaluable resource.
Buy it today!
To order your copy of "Convertible Top Restoration and Installation," visit CarTechBooks.com or call 1-800-551-4754. The book costs just $32.95 plus shipping.
Win a free copy!
This weekend only, Follow GAHH Automotive on Instagram, and check out their quality convertible soft tops. On Monday, we'll pick one of their followers to win a FREE copy of "Convertible Top Restoration and Installation."