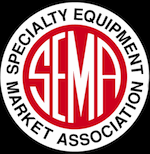 Studying to become a professional auto trimmer, but having a hard time paying your tuition? If you're a top student, SEMA can help.
The SEMA Memorial Scholarship is dedicated to fostering the next generation of industry leaders and innovators. Whether you attend a university, college or vocational/technical school, SEMA can offer you a partial scholarship to cover current tuition or to help pay back a student loan.
Awards range from $1,000 to $2,000, with a single top prize of $4,000 going to the top student. And if you plan on attending Ohio Technical College, SEMA is prepared to award one student a full-tuition scholarship (valued up to $29,400).
The deadline to apply is April 15, 2011. For more information: www.sema.org/scholarships
— — —
The Hog Ring is the #1 online community for auto upholstery professionals and enthusiasts. Here you can browse pictures, read news and connect with others who share your passion for auto upholstery. You can even check us out on Facebook and Twitter!