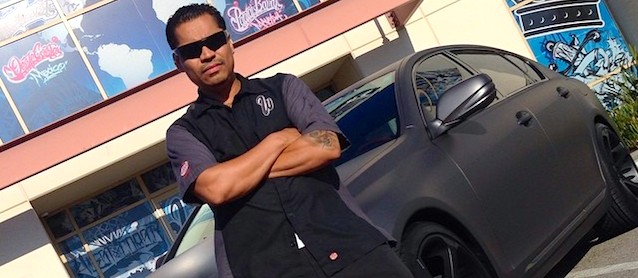 In part one of our three-part interview series with Ish Jimenez, master trimmer and former star of MTV's hit show "Pimp My Ride," he told us all about his humble beginnings — starting as a troubled kid in South Central Los Angeles, who was forced to work in his uncle's auto upholstery shop to stay out of trouble, to becoming a world-famous auto upholsterer.
Of course, Ish has more to offer than just an interesting story. He's also a serious craftsman with an eye for design and the skills to bring any interior project to life.
In this second installment of our interview series, Ish talks in detail about the technical side of auto upholstery — including how he collaborates with customers, why he prefers Consew sewing machines, and even his favorite types of cars to work on.
What follows is a transcript of our conversation:
Do you prefer when your customers know exactly what they want? Or do you like to have creative control over the look and feel of an interior project?
I like to be 50/50. I think that's the right way to do it. When a customer comes to the shop, they have their own ideas. … Then, you throw your own flavor. At the end, you guys meet in the middle. … Like I say, it's better when you talk to a customer [about] exactly what he wants, then you throw your own ideas. I always believe that two heads think better than one.
I agree. Sometimes customers' expectations are unrealistic. And other times they don't know how things go together. You have to educate them.
Yeah. Sometimes their expectations are too low, like, "I just want a simple thing, beautiful leather and…" No, no, no. Let's do it a little bit farther than that. [While] other people, they come with out-of-the-world expectations.
So what are your favorite types of cars to work on?
I've seen other people's shops, and I got respect for everybody. I love hot rods, but I'm not so good at doing hot rods. I'm really good at doing exotics, like Lambos, Ferraris, Mercedes, Range Rovers, Maseratis.
I love the way hot rodders do it, I love it. I'm telling you straight up, if you bring me a hot rod right now, a Camaro or a Mustang, I'll do it, but it ain't going to be the best hot rod. Like I said, I do general stuff, but my thing is exotics.
What aspect of the craft took you the longest to master? And how did you finally get it?
I would say wrapping dashboards. Honestly, I'm still learning, bro. Whoever says that I'm the best, that's boo boo.
Today, maybe Mazda comes out with a new model. Then, when you finally get it, bam, they come out with another model. You have to retrain yourself.
I still have problems sometimes. I'd be lying if I'm like, "Oh yeah, just send me whatever." Yeah, I might do it in a blink of an eye and you would say, "Oh shit, Ish is the shit!" Then, the second one, I might take a week. And you'd say, "Oh shit, you ain't the shit." Just being real.
What type of sewing machines do you operate on at your new shop?
Consew machines, they'll always be my weapon of choice. Maybe it's because my uncle used to tell me, "Consew machines are the best sewing machines."
I like Consew machines because at some point, at West Coast Customs, we used to have Adler. Honestly, they're some badass machines, Adler… beautiful, nice, but [too expensive to repair].
It's like if you bought a Mustang, you can grease the shit out of the Mustang, you can take it to the track, you can do whatever the heck you want. Mustangs…will never break down, and if you break down, [it's just] $200 or $300 [to repair].
A Consew machine, I know those sewing machines like the back of my hand. If something broke, like, "Oh, hold on. Get out of my way, bum bum bum, done."
But if you've got a Bentley… That's how I feel with Adler. You have to call people that are specialized by Adler. Like I say, it's like a Mustang and Bentley. Nice…but [too expensive to repair].
So do you repair your own machines, then?
Yeah. I'm not certified, but I got trained by [someone] from Consew machines… they sponsored us a West Coast. The guy, he used to come over. One day, he just broke one of the sewing machines apart and told me, "Look at this. Put them apart, put them together." I was like, "Well, shit!" I didn't learn all the way, but I'm able to fix my own machines at this point.
Do you use a double needle machine for your French seams?
Yes, mandatory.
Sewing machine technology has gotten really impressive in recent years. Are there any new machines you plan on buying?
You know what? Consew came out with a machine that gives us like 14 different kinds of stitches — like zigzag, cross stitching, baseball stitching. It's a badass machine. I'm just trying to put the money together, because it's out of my pocket right now.
Are there any other special tools in your shop that you use that other shops might not have, or might not know about?
I noticed that a lot of people don't use steamers. … I got a Jiffy for the seats, and I got another one for when I do headliners, stuff like that.
Let me ask you this: do you steam leather? A lot of people say that the leather will shrivel up if you steam it.
If you don't know how to steam it, yeah it happened to me. When I steam leather seats, I try not to put the steam between the cover and the foam. I put it in the middle of the foam, or under the foam … I do steam the leather carefully, and I use a heat gun on the leather, too, because it works really good.
You said that your favorite cars to work on are exotics, but what are your favorite types of material to work with? For example, do you prefer leather over suede, leather over vinyl?
Sometimes, I get customers that come over and they don't have the budget to go all the way with leather. I offer vinyls. I show them the difference: "Look, this is leather and this is vinyl." There's still good quality vinyl, when they can't afford leather … Myself, I like to work with anything. It makes no difference to me.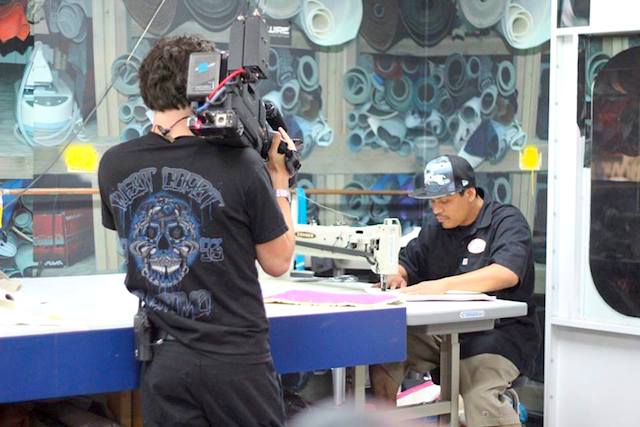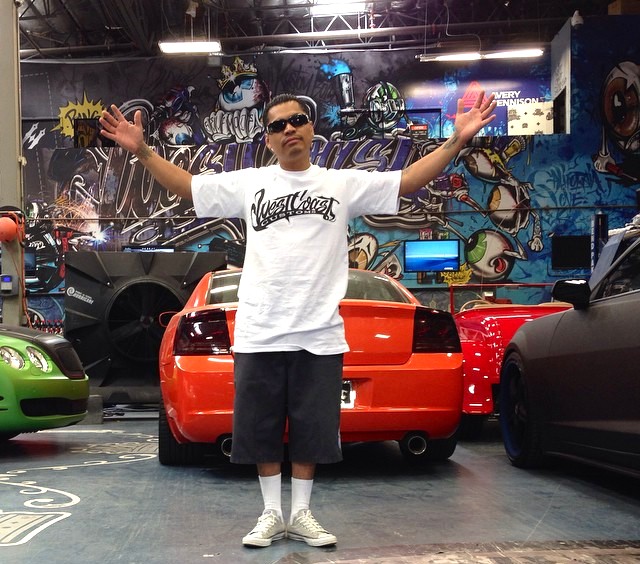 Stay tuned for the final installment in our three-part interview series with Ish Jimenez — in which he reflects on his long career in the craft of auto upholstery; talks about some of his favorite moments, including working on actor Mark Wahlberg's Cadillac Escalade; and opens up about his plans and hopes for the future.
Also, check out Ish's new shop Royal Auto Designs online at RoyalAutoDesigns.com, and follow them on Instagram.