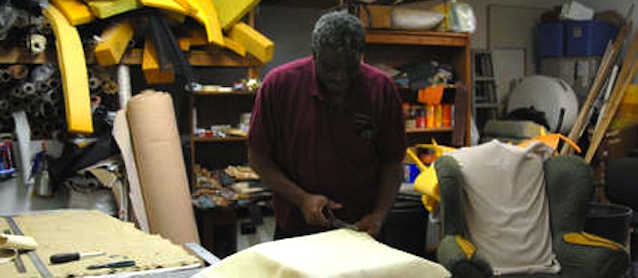 Armstrong's Upholstery Beach Park of Beach Park, IL was recently featured in the Lake County News-Sun, a local affiliate of the famed Chicago Sun-Times. In the article, owner and veteran trimmer Bert Armstrong tells how he got started in the craft of auto upholstery – a story, I'm sure, many of us can related to.
The Lake County News-Sun writes:
Armstrong, 68, has been at restoring upholstery since he was 16 when he started to learn the trade at a former Dodge dealership on Genesee Street at Sheridan Road in Waukegan. He did it between running errands for his boss.
"I had a 1959 Dodge then. To help pay for it, I needed a job," he recalled.
He later took a job at Frank Auto Seat Covers on Glen Flora in Waukegan, picking up materials for seat covers then installing them. That seat cover business, like some other area auto interior shops, has long been consigned to memories.
Armstrong opened his own shop in 1971 under the name of Bert's Auto Trim on Ash Street and Grand Avenue in Waukegan. He later changed the name to Armstrong's Upholstery Beach Park, to reflect that to stay in business, he had to broaden his reaches beyond cars to boats, trucks, furniture, taverns and restaurants, or where upholstery is needed. […]
In addition to vintage car owners, Armstrong counts among his customers several big-name area companies, a credit union and restaurants. He hardly advertises. Rather, he said he depends on referrals and word of mouth from satisfied customers. […]
As his motto says, his business is "hard to find, but tough to beat." In fact, he said his competitors often ask him for advice which, he said, he often dispenses freely.
That apparently shows he commands plenty of respect in the business.
The story continues with details of how big Bert's shop got, what he did after it burned down and his lamenting on the state of the industry. To read it in full, check out "Beach Park man brings new life to upholstery."
For more interesting stories about other auto upholstery shops, check out The Hog Ring's "Shop Profiles" section.