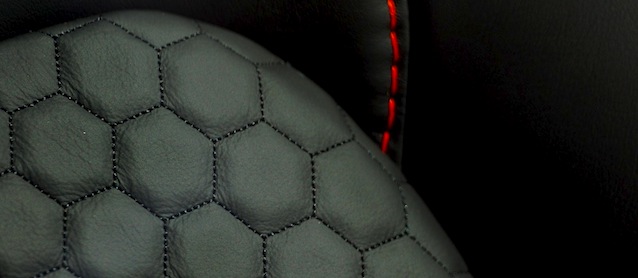 Last month there was a lot of talk within our Auto Upholstery Forum about unique pleat designs for insert panels on car seats. The one design that seemed to have everyone scratching their heads over how to sew was the hexagon tiling pattern (a.k.a. the hextille) found in the new Aston Martin Cygnet (pictured above).
The hextille pattern is unique and looks great, but difficult to replicate on a standard industrial sewing machine.
To pull off the pattern without sewing over the same line twice, you'd have to sew the left vertical sides of the hexagons all the way down, followed by the right sides, and then connect them with many small horizontal lines to create the tops and bottoms of each hexagon. Since backtacking on the face doesn't look professional, you'd have to pass the thread through to the underside by hand with a needle and tie it off to the bobbin thread.
The process is certainly do-able, but very time consuming and – quite frankly – a pain in the neck. However, there is an alternative to the hextille pattern that looks very similar and is much easier to sew: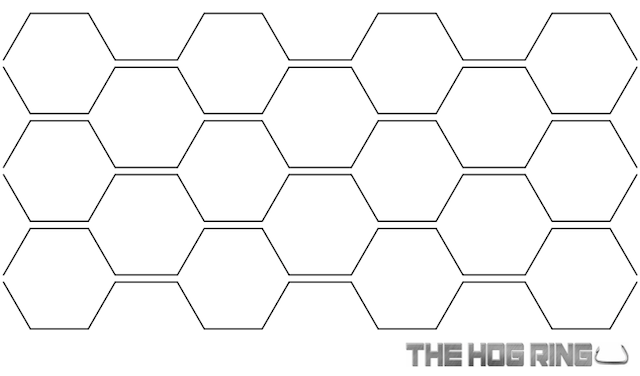 The above pattern looks almost identical to a hextille design. By removing a ¼" line straight through the centers of the hexagons and leaving a ¼" gap between each row, you can sew the pattern in horizontal lines. Because the lines are continuous, connection pieces and backtacking is unnecessary.
The following image distinguishes the path of each separate stitched pleat by color:
The hextille pattern is an advanced pleat design that takes lots of practice to master. While this alternative approach to hexagon tiling is significantly easier to sew, it's still quite difficult to design. The challenge lies in drawing a perfectly true hextille pattern on your material. For that, you'll need a carpenter's square, a calculator and lots of patience.