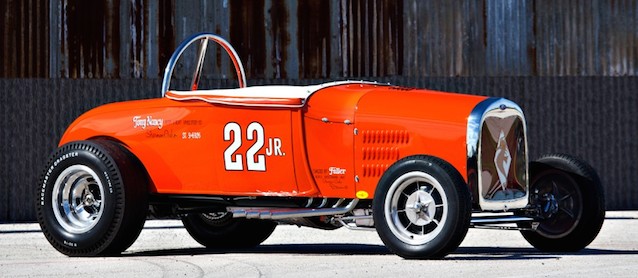 Forbes magazine recently profiled Tony "The Loner" Nancy, an American hot rodding legend and upholstery man who helped establish Southern California as the hot rod capital of the world. The article is a must-read for anyone interested in American automotive culture.
Tony, who died in 2004, was admired for his ability to do it all — from upholstery to fabrication and paint. He earned his nickname, "The Loner," because he didn't need anyone to help him with his builds, which were legendary and graced the covers of nearly every hot rod magazine.
In fact, automotive auctioneers Gooding & Company are preparing to accept bids on one of Tony's creations — which is why Forbes decided to profile him. The car is a 1929 Ford 22 Jr Model A Roadster on a Kent Fuller-built lightweight, chrome-moly tubular chassis with a stroked 450 cubic-inch Buick "nailhead" V8 engine. It's expected to fetch anywhere between $140,000 to $180,000.
Of course, Tony was admired for his auto upholstery work just as much his hot rod builds.
"Tony's upholstery shop on Ventura Blvd. in Sherman Oaks was known for some of the coolest custom interiors of the Fifties and Sixties," Ken Gross of Hemmings wrote in 2005. "In those days, we called a clean, well-built, neatly turned-out car 'sanitary.' Tough Tony could have invented the term."
Mark Ewing of Forbes paid similar respects to Tony's skills in the craft of auto upholstery.
"When one of my writers and I interviewed him long ago, he modestly called himself 'a trimmer,' a man who works upholstery," wrote Ewing. "Considering he created seats for NASA and land speed record cars, his modesty staggers. He worked on cars owned by Clark Gable, John Wayne, and Steve McQueen."
Check out this video about Tony by America's Car Collection:
What a legend! To read the full article in Forbes, see "The Lone Trimmer's Nailhead: Tony Nancy's Nailhead Roadster at Gooding & Company Scottsdale Auction."