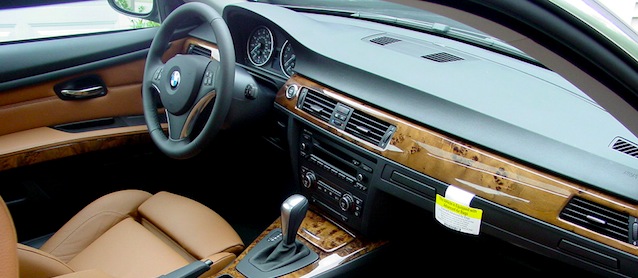 In the past, auto trimmers used self-adhesive trim kits to enhance the look and feel of plain dashboards. But that's when flat dashes were the norm and suppliers manufactured one-size-fits-all trim kits in a limited range of colors and designs.
Today's cars feature wrap-around dashboards that are so complex and unique it's almost impossible for suppliers to mass produce trim kits for them – which probably explains why they're so hard to find.
That, however, doesn't mean auto trimmers can't help customers transform their dashes from bland to beautiful. With hydrographic printing (water-transfer printing), anything is possible.
Hydrographic printing is a process through which designs, imprinted on film and floated on warm water, are transferred onto hard surfaces – including metal, glass, plastic and wood.
If you've ever wondered how auto manufacturers make plastics look like they were carved from oak, hydrographic printing is the answer. In fact, through hydrographic printing you can make almost any solid part of a vehicle's interior trim look like wood, carbon fiber, billet aluminum or whatever other custom design you can think of.
The following video by Advan Win, a European supplier of hydrographic printing equipment, explains the process:
If you have plans to enhance a customer's dash and think the process seems a bit too complicated to do yourself, there are several companies that provide hydrographic printing services – including Bit Trim and Julianos.
For trimmers who wish to try the process themselves, check out Alsa Corp. They sell DIY kits that allow you to hydrographically print a wide range of designs in your own bathtub.
We want to hear from you: Do you have any experience with hydrographic printing? If so, what tips or tricks can you share with fellow auto trimmers? If not, what's preventing you from experimenting with this unique method of trim design?
— — —
The Hog Ring is the #1 online community for auto upholstery professionals and enthusiasts. Here you can browse pictures, read news and connect with others who share your passion for auto upholstery. You can even check us out on Facebook and Twitter!