With so much attention cast on auto upholstery shops that specialize in custom hot rods, we sometimes forget about those that focus on classic restorations — an integral part of our industry that we at The Hog Ring aim to highlight more of in the near future.
Make no mistake about it, the projects these shops take on are just as challenging as custom work — with, of course, the added difficulty of ensuring that every last detail is period correct.
Among the best in the business is master trimmer Dan Kirkpatrick, who we're honored to interview for the latest installment of The Hog Ring's popular "10 Questions" series.
Kirkpatrick launched his career in upholstery in the 1970s, when – straight out of high school – he took a job at a local furniture factory. From there, he went on to work for a couple of auto glass and upholstery shops, where he narrowed his scope to cars and honed his skills. As he excelled in the craft, he transitioned from general auto upholstery to custom work, but eventually found his niche in the highly specialized world of classic car restoration.
Today, he is owner and operator of Dan Kirkpatrick Interiors in Chouteau, Oklahoma — where car collectors from all over the United States flock to have their rare and often-priceless automobiles restored. He completes about six full restorations a year, and is usually booked six months to a year in advance.
Renown for his master craftsmanship and meticulous attention to detail, Kirkpatrick's work has won numerous awards and been featured in countless magazines. Nevertheless, he remains as humble and hardworking as ever.
For Kirkpatrick, auto upholstery isn't just a job, it's his passion — evident in the thoughtful answers he shared with us in the following interview.
1. How did you get your start in the craft of auto upholstery?
Right out of high school, I went to work in a small furniture factory putting covers on sofas and recliners. No pattern making or sewing, just putting on the covers. After about a year I went to work in a couple of local glass and upholstery shops. It was difficult because I really didn't know much about upholstery. One of the shop owners told me to find another line of work because I would never be any good at upholstery. Many times over the years I wished that I had listened to him!
My dad was a building contractor and me and my three brothers worked for him off and on. My business really started when I began to do trim work out of a two-car garage on the side for extra money. The only advertising I did was a small ad in the newspaper
classifieds that simply said "Auto Upholstery – By Appointment Only" and the phone number.
It only stayed a sideline for about 2 years. I started working in that two car garage on a residential street full time and had all the business I could handle. One of my brothers ended up working with me full time in that small garage. We had a good little system worked out.
One day, out of the blue, a zoning officer showed up and said I had 10 days to close up. Turns out that several trim shops in the city had complained. I was not sure what to do next, but I was not about to close up shop. So I went out and rented my first shop space.
Sometimes the things that seem to be the most frustrating turn out to be great positives.
2. On average, how many vehicles do you complete per year? How long does one typically take? And how far in advance is your shop booked?
The number of cars I do varies quite a bit, but I allow for six full interiors and tops per year. Some are short term, about 4 or 5 weeks, some are very involved and take 8 to 10 weeks. The spring and summer months are just crazy because of the major shows customers have made commitments to. I go out of my way to accommodate my regular customers.
My bookings vary quite a bit as well. Usually 6 months to a year. I don't want to be committed further out than a year.
3. Do you trim one vehicle at a time or are there several at your shop at once?
I try very hard to keep only one or two cars in the shop at the same time. My shop is only 40'X60′ but can easily house 4 or 5 cars. I keep plenty of space around each car.
4. Your shop takes on a lot of classic car restorations. Do you also do custom hot rod work?
I left the rod and custom work behind a long time ago. I will do one if it belongs to a regular classic customer. My website shows one custom car, a 1931 custom-built Marmon roadster. It belongs to one of my regular customers and is so unusual I decided to add it to the website. I simply don't have the skills to do the kind of design and fabrication work being shown on The Hog Ring these days. I am continually amazed at the kind of interiors being produced in trim shops today. I keep doing the old stuff because I am not good enough to do the new stuff.
5. You cater to such a niche market, which is probably very limited in local clientele. How far do your customers travel to seek your services?
The classic car market is extremely small compared to what else is going on in the automotive world. Sometimes I feel like I just painted myself into a corner. It is a very tough marketplace to get into. For example, one customer took 8 years from the time I met him until I got his first car. He has been a regular ever since though.
There are some great collections and avid collectors right here in Oklahoma, but I do get projects from all over the U.S. From California to Maryland, from Texas to Wyoming. I have been very fortunate.
6. What was the rarest vehicle you've restored? Which vehicle was your favorite?
Some of the rarest automobiles I have done are also some of the oldest: 1906 American Tourist, 1911 Pope, 1911 Olds Autocrat, 1914 Cadillac seven-passenger touring, 1915 Stutz Bearcat and a 1916 Stutz Bulldog.
Some of the later-model rare automobiles include any of the Duesenbergs. I have trimmed five Duesenbergs: 1931 Ruxton Phaeton (one of two), 1929 Ruxton Roadster (first one), 1953 Cunningham C3 Vignale convertible (one of four)
1937 Ford Darrin (Only Ford famous customizer 'Dutch' Howard Darrin built).
Any of the automobiles listed on the Classic Car Club of America roster of designated 'Classics' are considered rare and very collectible.
My personal favorite is the 1929 Duesenberg J-108 Convertible coupe bodied by Murphy. It belonged to actress Ginger Rogers and was featured in the 1934 film "The Gay Divorcee" with Fred Astaire.
7. How difficult is it to restore a classic car so that it's period correct? What type of research do you do to learn about a car in order to ensure every last detail is accurate?
Fortunately, in the classic car circles, the respective owners are quite knowledgeable about what is correct for their car. But I do spend a lot of time looking online or at resource books I have for clues. With the Ginger Rogers Duesenberg, I freeze framed the movie where the interior of the car and top were shown so I could tell how it was done originally.
Many of these early cars were hand built to a customer's requests so there is no "correct." They are not at all like most production cars built after the late thirties. Often my customer will just ship the car to me and tell me to "fix" it. If you have knowledge of the techniques of the era, and can get your hands on the correct hardware, it's not a great mystery.
I will spend hours looking for photographs, reading resource material, talking to other people about certain specifics. After a while you develop a network of 'go to' people to get help whether it is just a question or a piece of hardware or fabric. Occasionally I will get a car with some of the original still with it but that is rare.
8. Speaking of hardware, do you find it difficult to find necessary parts? Also, do you typically fabricate everything by hand or do you sometimes install aftermarket upholstery components?
Finding correct hardware and materials is only getting more difficult. When I can find hardware I need, I will buy all I can no matter the price. Most of the especially rare parts have already been provided by the customer. He will borrow a part from someone with a correct part and have it duplicated.
I make everything for the interior myself. I use no aftermarket products and, frankly, have refused to install any interior kit of any kind for years
9. To what do you credit your shop's success?
How do you define "success"? In many ways, I am still trying to become a success. There is a funny old saying: "The harder I work the luckier I get."
I used to think that if I was good enough, people would just stand in line and pay whatever I wanted. I was wrong. There are built-in limitations in any market. I believe being a talented trimmer is only part of owning a successful shop. It is kind of a package deal.
You will deal with all kinds of people so it is important to develop good customer relations. You need to have good communication skills whether it be email, phone, letters, etc. You should act and dress professionally for the trade. I believe that you and
especially your workspace is a reflection of your work as well. Your customer must feel that his project, whatever it is, is in good hands. And, try to give each customer more than he is expecting.
10. What has been your proudest moment as a shop owner? And where do you see Dan Kirkpatrick Interiors in 10 years?
It is impossible to single out a proudest moment, there have been many. In a larger sense it is when a customer sees his completed car for the first time. Since the interior is usually the last major work, the customer can finally see what his vision and money has turned into. It is a very special moment when you are told your work is the icing on the cake.
I think the future for me is pretty much as it is now only with a more manageable pace. I would consider another opportunity if it were to present itself, but I have invested so many years trying to get good at trim work I really don't see myself doing anything else.
On one hand, it looks as though the trade of trimming automobiles is dying — Detroit automakers have killed a lot of good business for trim shops. But I hear constantly that people are looking for good, skilled, craftsmen but can't seem to find any. After following The Hog Ring for a couple of years, I am convinced that there are plenty of very competent trimmers around the country right now.
I have been extremely frustrated for many years over the fact that auto trimming is a largely misunderstood and underappreciated trade. The average car guy has no idea what different mediums trimmers have to be good at, nor understand the learning curve involved in mastering such a meticulous craft. I can't tell you how many guys I know that will build their own engines and drivetrains, try their hand at paint and body work, do body off restorations by themselves but very few will attempt the upholstery. Go Figure.
There is a tremendous amount of trimming to do: aircraft, marine, auto, and commercial. None of us can get to it all anyway.
Thanks for taking the time to speak with us. Before we wrap things up, is there anything else you'd like to add?
Just a word about The Hog Ring. I love this site. I am 61 years old now and have been trying not to embrace technology. I just started Facebook earlier this year and just launched my website, not knowing if any of it will help business. Many, many times I wonder about what other shops are doing, what others are charging for their work. The Hog Ring has helped me tremendously with my own perspective, and, I won't give any details but I have picked up some pretty neat tricks too!! Naseem and Nadeem, Thank You for The Hog Ring, outstanding work!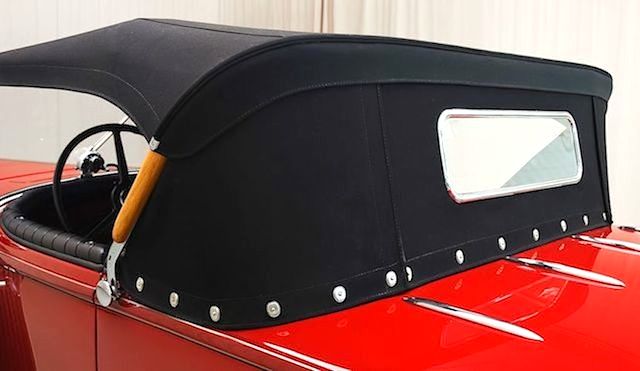 1931 Chrysler Imperial CG Roadster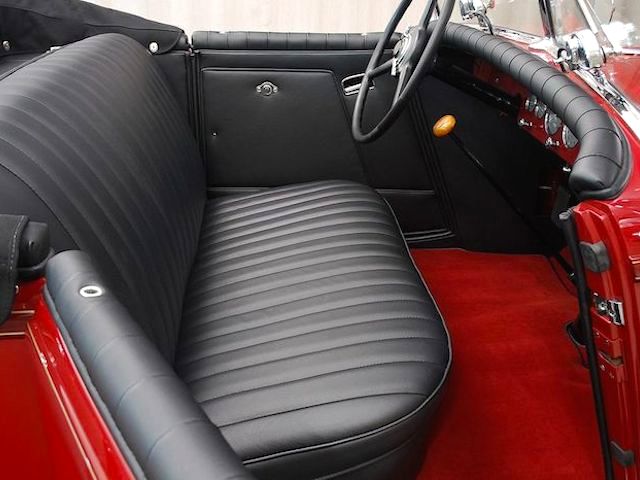 1931 Chrysler Imperial CG Roadster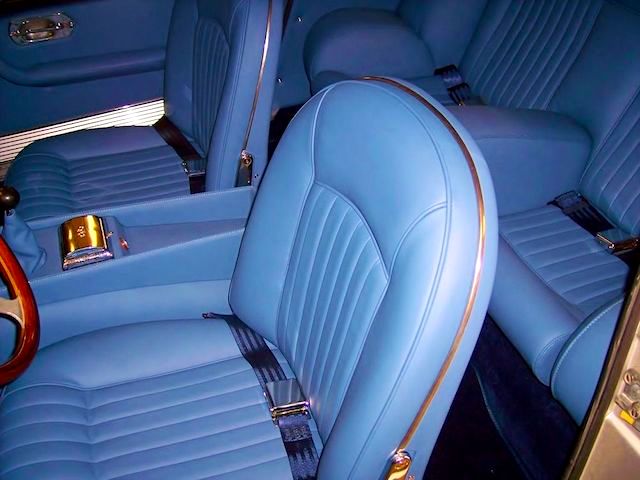 1967 Ferrari 330 GT 2+2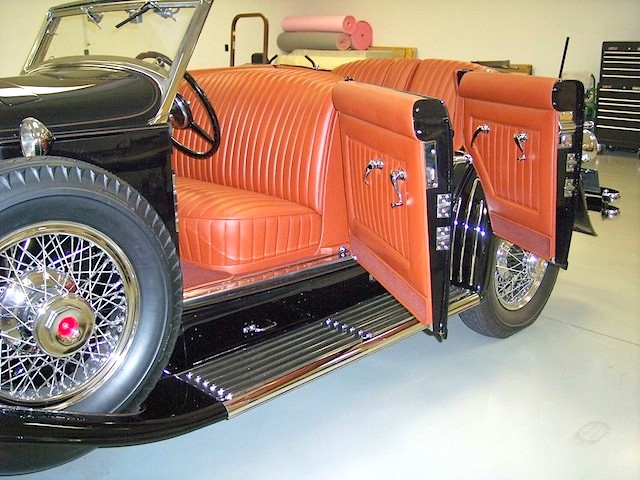 1933 Duesenberg SJ-528 Brunn Riviera Disappearing Top Phaeton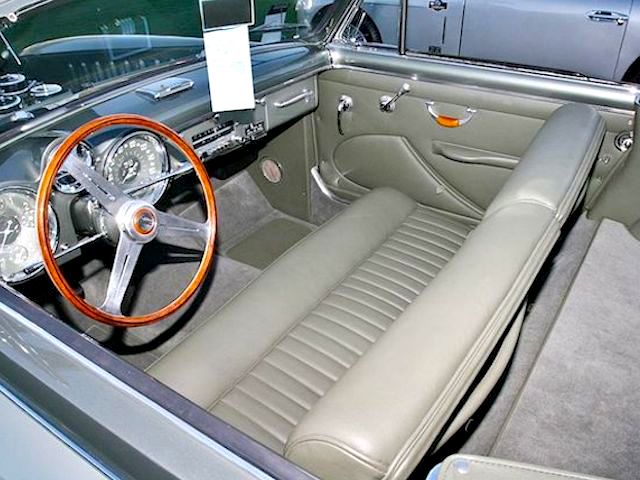 1953 Cunningham C3 Vignale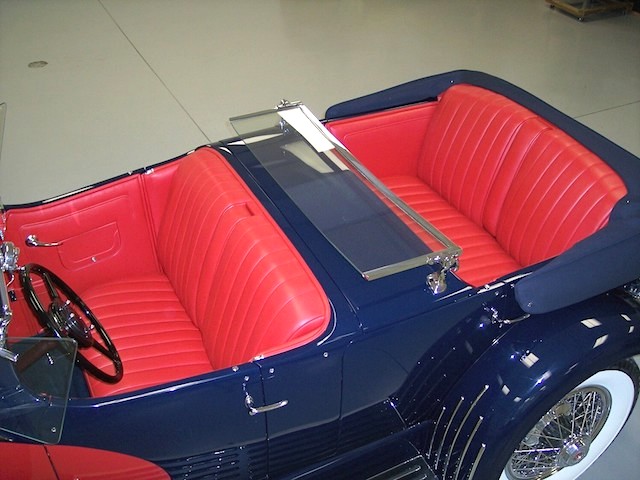 1929 Duesenberg  J-129 LeBaron Dual Cowl Phaeton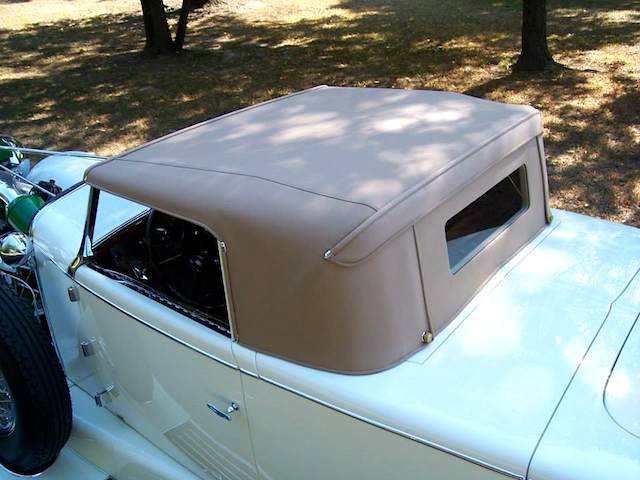 1929 Duesenberg J-108 Murphy Disappearing Top Convertible
1930 Packard 734 Boattail Speedster Runabout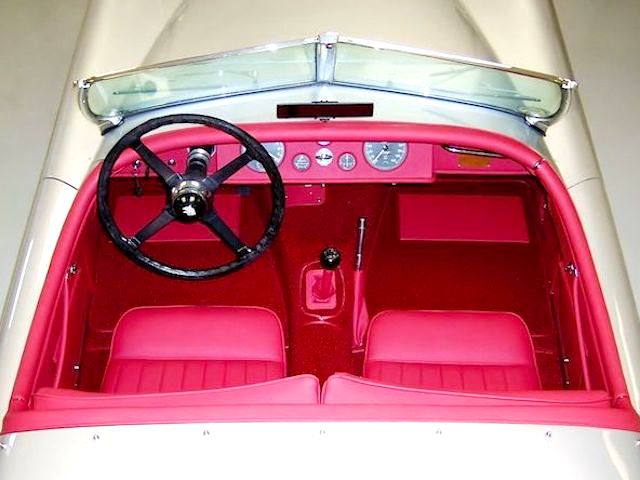 1951 Jaguar XK-120 Roadster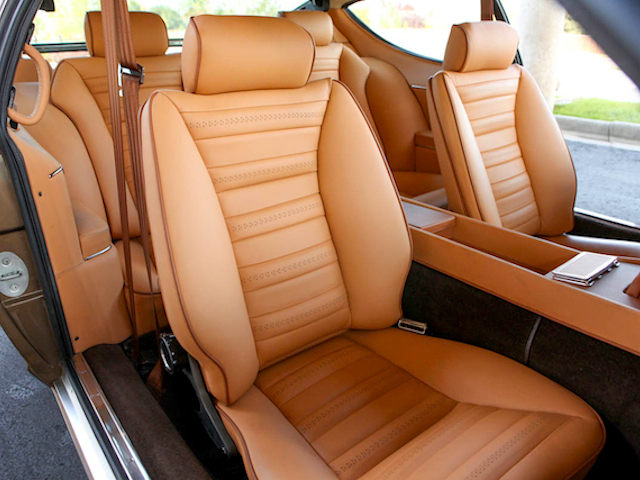 1972 Lamborghini Espada
 To learn more about Dan Kirkpatrick Interiors, visit their website and Facebook page!