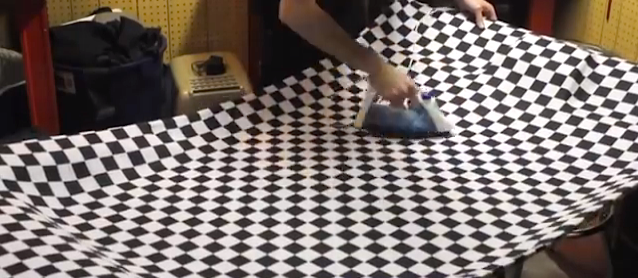 There are a lot of DIY auto upholstery videos posted on YouTube. Some are better than others, but most are complete rubbish. They either teach viewers how to incorrectly make repairs or skip so many steps that they'll never last. Case in point: Check out this video titled "How To: Custom Headliner."
According to the video producer, once a headliner board is removed from a car, you only need a thin piece of fabric (not foam-backed of course) and six tools to get the job done: needle-nose pliers, vacuum, kitchen scissors, spray glue, utility knife and clothing iron.
Once you've gathered your supplies, the trimming process is easy. Below are the eight simple steps:
Use the needle-nose pliers to break all your trim clips.
Do not tear the old headliner fabric off. Instead. vacuum it.
Use your kitchen scissors to cut enough fabric to cover the board.
Spray the fabric from top to bottom with glue.
Spray the headliner board from top to bottom with glue.
Lay the fabric over the board in one shot and rub down.
Cut out all the trim holes with your utility knife.
Flatten all the wrinkles with a clothing iron.
In the event that you need a visual aid, here is the video:
And that, my friends, is why professional auto trimmers are here to stay.