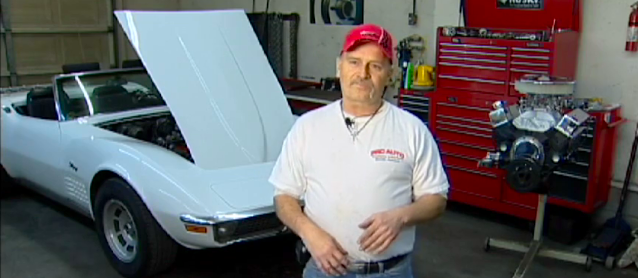 If you happened to catch "Car Warriors" on Speed TV last Wednesday, you saw East Tennessee auto upholstery expert Rick McGuire of McGuire's Custom Interiors design, make and assemble a hot rod interior in only 48 hours.
For those who don't know, "Car Warriors" is a show that pits two teams against one another to see who can create the best custom hot rod in 48 hours. The winning team gets to keep the other's car and send it on tour to raise money for a good cause.
Rick, along with his team from North Carolina, said that if they won, they would donate funds to support the Leukemia Foundation – as Jimmy, their team leader, has a four-year old son diagnosed with the disease.
Knoxville news channel WBIR caught up with Rick to discuss the show and his experience. Here's a little bit of what he had to say:
We had to be on set at 6:00 a.m. Then we had to do all the taping, and all the unveiling and all this stuff. We had to work like 10 hours straight before we started the actual 48 hour build. […]
I had steel toed shoes on and blisters on my feet. I was worn out. I got on the sewing machine and ahhhh. I started sewing and the next thing I know da da da da da da and I was out. Next thing I know I heard something and I looked up and I had this camera in my face and I had fallen asleep.
I got a total of 2 hours and 15 minutes in 60 hours.
Despite the challenges, Rick said that the experience was well worth it.
I've been around this for 25 years and I have seen some spectacular cars and when I sat back and saw what our team had done, it was just phenomenal.
It was the most awesomest thing I've ever experienced in my life.
Congratulations to Rick for the amazing opportunity and many thanks for fighting for a good cause. To watch a video of Rick's full interview, see WBIR online. To watch the full episode of "Car Warriors" and find out if Rick's team won, check out Speed TV.