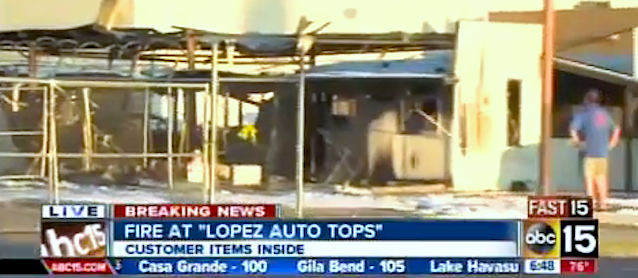 Sad news to report from Phoenix, Arizona – Lopez Auto Tops, a family owned upholstery shop that's  been in business since 1966, has been destroyed in a fire that local authorities are calling "suspicious".
The fire, which started at 3:30 a.m. on Monday morning, left no one hurt, but a father-son team's livelihood in question. AZfamily.com explains:
The building suffered extensive damage before crews were able to put out the flames. Just about everything inside was destroyed. […]
The owner said he started the shop with his father in about 1966. The building was made out of all wood and contained glue and tapestries to make custom tops for automobiles as well as auto upholstery.
The owner does not have insurance on the business, but all the cars inside are covered.
The cause of the fire is not known at this time, but firefighters are calling it suspicious. [more]
Our thoughts and prayers go out to all those left affected by this disaster. We hope that you rebuild and come back stronger than before.
Protect Your Shop
Situations like this are always tough. As shop owners, we take steps to fire-proof our businesses, but there's always a chance that one will break out. The glue, cleaners and other chemicals we stock only add to the worry.
That is why it is absolutely necessary that we regularly review our insurance policies to make certain that they cover the value of our buildings, products, tools and customers' cars.
If you haven't already, read "Guarding Your Shop From Natural Disasters". It provides some helpful advice on how to limit your losses in the event of a fire.