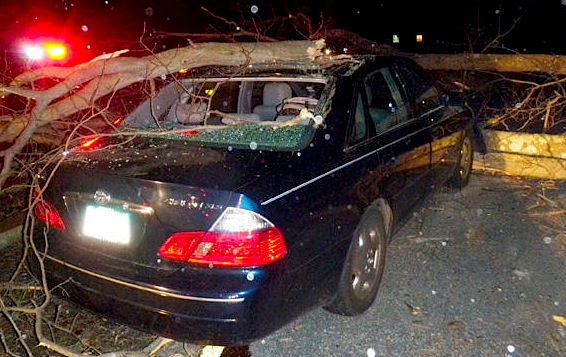 Suppose your auto trim shop catches fire or a tree falls over and crashes through the roof – are you covered?
Hotrod & Restoration recently published a great article about how to protect your shop (and livelihood) from falling victim to a natural disaster. Among the steps they recommend: (1) find alternate storage for your projects and equipment, (2) back up your files and (3) talk to your insurance company before it's too late.
Author Devlin Smith illustrates his point by recounting the experiences of three shops: Hi Class Customs, Victory Machine and Main Street Upholstery. All three suffered setbacks caused by natural disasters, but rebounded stronger and more prepared than ever before. The advice they offer shop owners is invaluable.
For instance, Vic Anderson of Victory Machine suggests that shop owners stay in regular contact with their insurance agents.
"If we believe that what we have in our shop would exceed the $250,000 [policy we have], then I have to call my insurance carrier and extend it to whatever we believe the vehicle cost in here is," he said. "Sometimes on a Friday night when I leave, I'll look in the shop and [think], 'I have half-a-million dollars' worth of cars in my shop and I've only got $250,000 worth of coverage,' so I'll call my insurance agent … and extend the coverage for the time that those vehicles are in here."
If you do fall victim to a disaster, Michael Dorman of Hagerty Insurance says it's easier to rebound if you've backed up your files.
"We had a recent issue with a client when the tornados went through the Southeast a couple of months ago. They had a storm drain overflow and flood their property during the tornado," he said. "It was fortunate for him that he always kept hard disks offsite. He would transfer his daily business data over to his home computer so when his office computer was damaged, his database was all set and ready to go."
"He could easily collect his billing and receivables and pretty much be prepared to be back in business as quickly as possible," Dorman continued. "If his computer system and all the data was stored onsite, it would have been damaged and it could have taken months, perhaps, to recreate all the book work."
Having offsite copies of your inventory lists, cost of goods, receivables, payables and vendors can also help you if you need to file a claim with your insurance company.
"If you have quick access to them after a disaster occurs, you can report it to your insurance company much more quickly and accurately in order to start processing a claim," Dorman said. "It certainly makes our job a lot easier if our customers are prepared with that information right away."
For more useful advice, read the full article, "Is Your Business Prepared for a Natural Disaster?"
We want to hear from you: Has your shop fallen victim to a disaster? If so, how did you rebound? Do you have any tips for other auto trim shops to help them get through the ordeal?