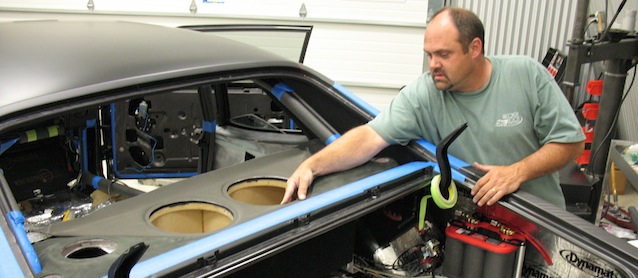 We're excited to present to you the second installment in our "10 Questions" series – where we pose 10 questions to a master, innovator or business leader in the field of auto upholstery who we believe our community of auto trimmers can learn from or be inspired by.
Tracy Weaver of Recovery Room Hot Rod Interiors in Plattsmouth, Nebraska is all three. A trendsetter in the field of automotive upholstery, his designs have inspired both car enthusiasts and builders alike. In fact, many of the design elements and build techniques seen in today's hottest custom cruisers were pioneered by him.
Not surprisingly, Tracy has been commissioned by some of the world's elite builders to customize their rides – including Troy Trepanier of Rad Rides by Troy and the Ring Brothers. Vehicles he's worked on have won many, if not all, of the top awards for custom design – including the Ridler and America's Most Beautiful Roadster (AMBR).
Having achieved such success, it would be easy for Tracy to continue doing what he's always done. But what sets him apart from other builders is that he's never complacent. His style continues to evolve. Just when you think he's designed and built the best custom interior you've ever seen, he out does himself with the next build.
On a personal note, interviewing Tracy has been a highlight for my team and I at The Hog Ring. In fact, he was one of the few master trimmers I had in mind while developing the idea for our "10 Questions" series. His participation is, indeed, an honor.
1. It's always interesting to read how a master trimmer got into the field and learned the craft. Why did you choose auto upholstery and where did you receive your training?
I kind of fell into this trade. I was always interested in art and cars, so it worked out to be a good match.
Back in the mid 80's I went to work at a van conversion and custom truck shop that built anything a customer wanted from the inside to the outside. I started to spend more time in the interior area filling in because of the designs I was coming up with at that time.
When a friend of mine told me of an upholstery shop that was looking for help, I went and talked to the owner about wanting to learn more about the trade and he hired me.
I started out doing the basic cut and sew work to learn how to use a sewing machine. After several years, I found that I was getting better with all the custom jobs that people would bring to the shop to do on any odd project – including boats, motor homes, planes and cars.
When the owner of that shop sold the business to one of the long-time managers, I moved on to open my own place in 1991. Since I was the one people began to know as the custom guy, I had work from the very start. I started to do street rods and custom interiors on a regular basis along with other types of work. As the business grew, I hired more employees.
About 15 years ago I went full time on just Custom work only and kept one of my best guys. I have never looked back with any regret for the decision
It turned out to be a good one. I have won every interior award I could want and been part of a lot of major car builds that went on to win some very good awards: Riddler, AMBR, Most of the "of the year awards" for Good-guys several times and have been lucky to meet some great people along the way.
2. There are lots of risks involved in making the jump from trim repair to specializing solely in custom designs. How did you do it and what advice can you offer trimmers interested in doing the same?
Making the jump to custom work full time is a big risk, but I was already established in the custom car world when I did it.
I always made sure that we did the best we could do. You have to be willing to work hard and put in the hours to do it. My best advice it to come up with your own look and style of build, and stick with it.
3. It's obvious that you invest a lot of time and effort in the interiors you design. How do you also find time to manage the business aspects of running a successful trim shop?
That's tough, but we only work on about 15 to 18 cars a year so paper work is to the minimum. My wife is a lawyer, so that helps a lot… haha.
4. Jim Peters is your partner and resident master fabricator. It's not every day that two masters in the craft come together to launch a joint venture like Recovery Room. How did your professional relationship start? Also, how involved are you in each other's work?
Jim is not a partner. He has been with me for about 18 years. I design and he builds what I come up with. He has a lot of input about the construction phase when he sees that something is going to be a problem. I do all of the sewing and he will build a lot of the upfront panels. Then I come in and draw out the designs. We then we both cover them.
5. When it comes to custom interiors, do you prefer that your customers know exactly what they want or would you rather have full creative control?
I work with my customers to get the results they're after. Some have a vague idea, but most of the time they let me do what will work in their cars.
There are some shops out there that do the same look over and over again, but you have to be able to change with the times and cars. Street rod interiors don't look good all the time in modern street machine and vice versa.
Most customers want something that is just for them and their cars. Follow the basic style rules and its all good.
6. Where do you find inspiration for your designs? And do you find it difficult to generate new ideas and keep things fresh?
Ideas are everywhere you look. That's all I'm saying.
We have had some of our ideas copied too much and I take that as a compliment. When I sewed metal mesh in a car several years ago, the following summer everyone was trying to do it – so I moved on to something else.
I'm working on some material combination now that should be pretty cool and different to shake things up.
7. Recovery Room prides itself on not only creating innovative and eye-catching custom interiors, but ones that are practical too. For instance, all of your panels are designed to be easily removed for maintenance and service of hidden mechanisms. How early in the design/build process are these considerations thought of?
From the very beginning of a build we look at what needs to be serviced or have easy access to. If an owner has to unglue a panel to get to a fuse box, they're not going to be very happy.
Cars never break in your garage with a toolbox next to them, so the panels need to be removable. That's why we build 90 percent of our panels out of aluminum to keep the shape and not break when taking them out.
8. You've constructed interiors for legendary car builders such as Troy Trepanier of Rad Rides by Troy and the Ring Brothers whose cars vie for some of the world's most prestigious awards. Does that add an element of stress to your work? And are there any builders who you haven't yet worked with, but would like to?
Most of the big name builders are great to work with. I have worked on several cars for Rad Rides through the years and Troy is fun to work for. We have gotten to be friends as well. Mike Ring is the same also.
They're not any different than other customers. They just have a higher standard of what they want and a tighter frame to work with because of show deadlines… haha. Detroit, Columbus and SEMA are the big shows that most of the builders try to get the latest cars to. If we can get them on our schedule, we will make every effort to get them done on time. Sometimes we are just booked up a head of time to do last minute work, and they have other shops they work with also, so it all works out in the end.
If there is one builder that I would have liked to work with, it would have been Boyd Coddington. He started the look most cars have now.
9. Aside from trim and fabrication, Recovery Room also installs vehicle electronics. Is this something you handle on your own or do you outsource the work to an installer who specializes in the field?
We do all of our own stereo installs if the customer wants it.
10. You've accomplished so much and will, no doubt, accomplish more. But looking back at your career, is there one moment in particular that sticks out as a real game changer?
Nothing too much yet – it has all been great. People ask what is the best interior I have done and I always answer that it will be the next one. There is always room for improvement and I hope to keep getting better. I'm not done yet.
Check out some of Tracy's work for yourself…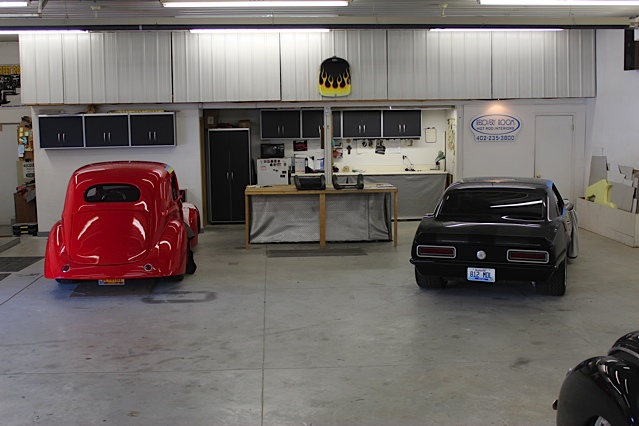 A view from the inside of Recovery Room Hot Rod Interiors.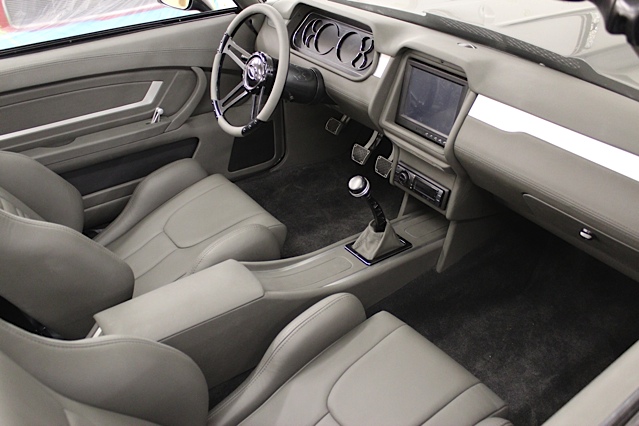 1969 Chevelle – custom dash, seats and trim. The dash is made from steel and aluminum.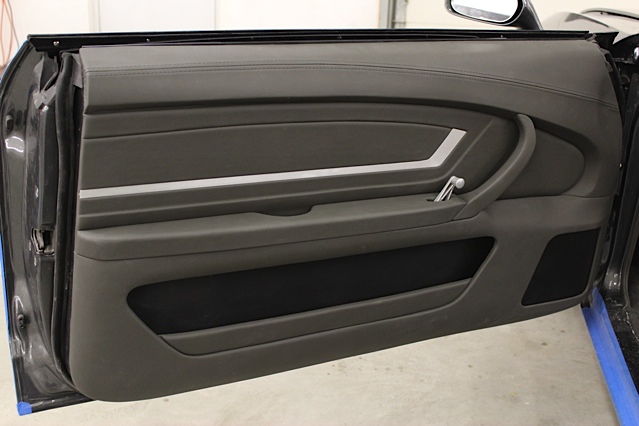 1969 Chevelle door panel made from aluminum and fiberglass.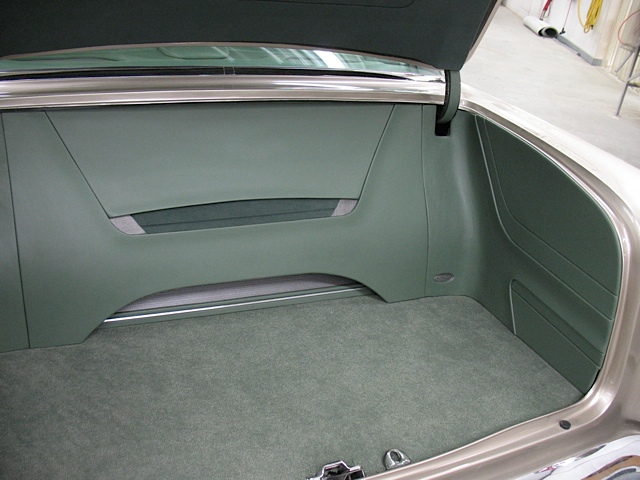 Recovery Room makes trunk panels from aluminum and fiberglass.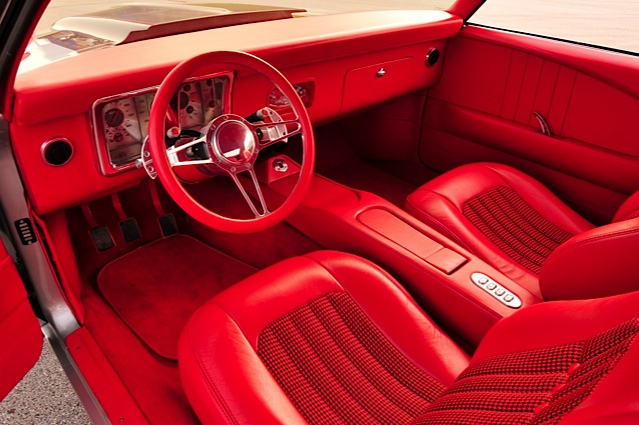 A Camaro with a custom dash and gauge cluster – trimmed in leather and houndstooth materials.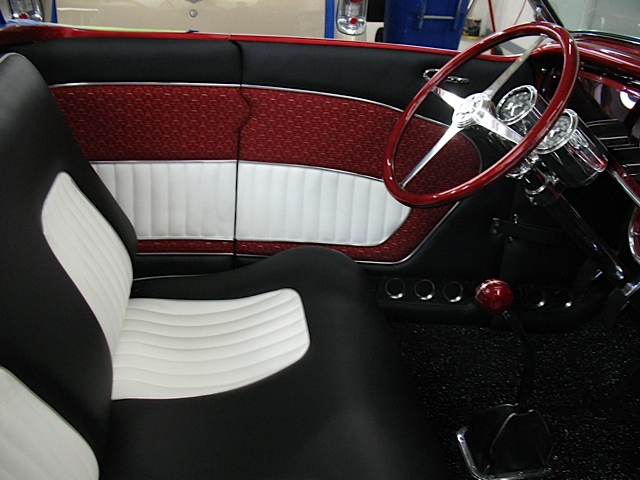 1960's style mixed materials in a '32 roadster – Recovery Room.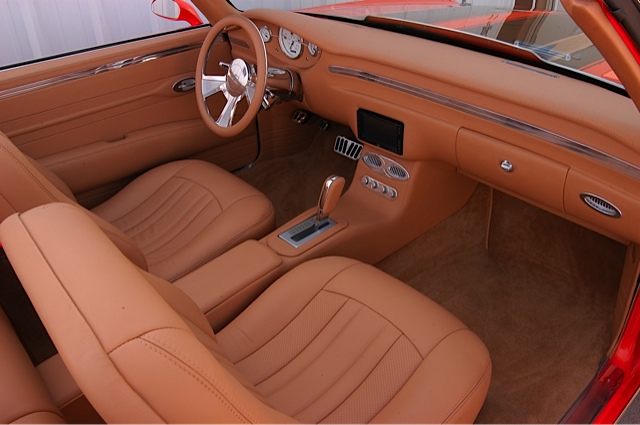 Recovery Room made the dash and seating in this custom Chevelle.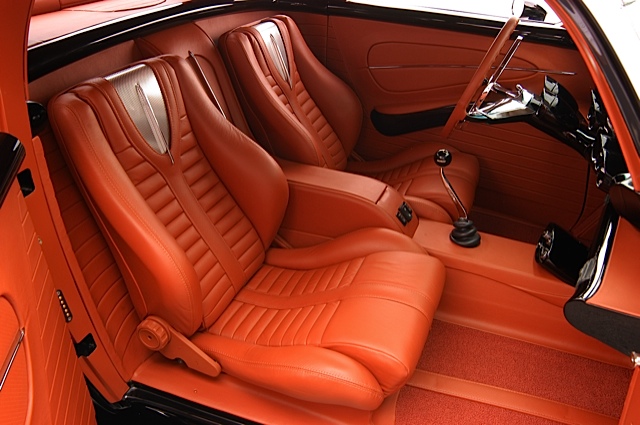 1938 Chevrolet Coupe with stainless steel accents incorporated in its seat backs
See more of the Recovery Room's work: www.recoveryroomrodinteriors.com