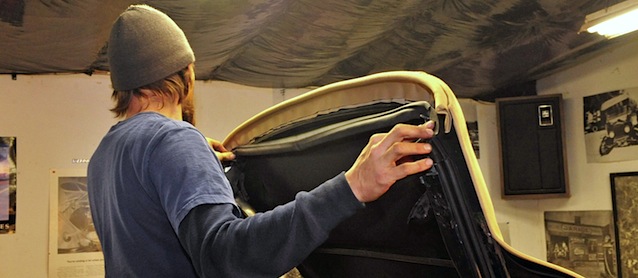 Did you know that you can buy scratch & dent convertible tops for a fraction of the price? Well, "scratch and dent" might be too harsh of a term. These tops look good and work well, but have some minor flaws.
Electron Top, which is currently hosting a sale on such tops, explains:
WE occasionally have tops and glasses that WE cannot sell as first quality. These items have small flaws such as; scratches, one or two lines not working on heated glass or blubs in the vinyl. Some flaws are small thickened weaves in the canvas. They are appearance problems only and have not been previously installed. This does not affect the strength or the weather fastness of the product. WE list these as "X" and sell them for a considerable amount less than our standard products. In the past, these have been sold to upholstery shops that deal with used car dealers or cars being sold.
Granted, you wouldn't install one of these tops on a new BMW. But times are tough and people are cash strapped. You can likely sell them to budget-minded customers or used-car dealers looking for a quick fix.
Best of all, there's no risk to you. Electron Top states, "After seeing the flaw, if you don't think you can sell it, call and WE will pick it up at no charge for shipping".
Quantity is limited, so you'll have call for availability: (800) 221 – 4476.