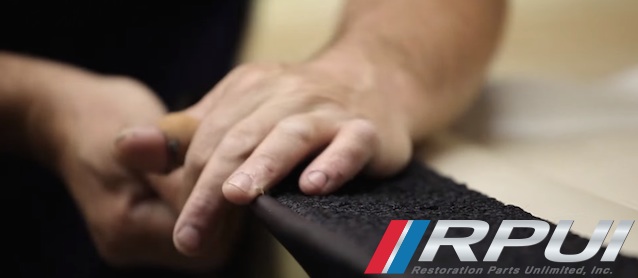 Surely, every auto upholstery professional that repairs and restores classic cars has at some point done business with Restoration Parts Unlimited, Inc. (RPUI) — the parent company of seven automotive restoration brands, including two major players in the upholstery industry: Parts Unlimited Interiors (PUI) and Corvette America.
Interested in RPUI's products, as well as its position in the growing aftermarket, we reached out to CEO Mitch Williams to talk shop.
We discussed a wide range of subjects — including the current and future states of the classic auto restoration market, both in the United States and abroad. Mitch also told us about RPUI's painstaking efforts to ensure that all their products are made to exact factory specs, plans to expand their product line to foreign vehicles and experimentation with custom interior components. He also talked of RPUI's support for professional trimmers and the company's willingness to sell original fabrics and materials to independent upholstery shops.
All in all, it was an interesting an enlightening conversation. What follows is a transcript:
RPUI owns Parts Unlimited Interiors and Corvette America, which are major players in the upholstery aftermarket. Can you tell us about how these companies were founded?
PUI was started by a gentleman who drove a Chevrolet Corvair in high school and college. He actually started the business because of his own Corvair. When Chevrolet discontinued the Corvair, a lot of the Chevy dealers wanted…to get the parts out of there and be done with the model.
The gentleman that started PUI went around to Chevrolet dealerships and started buying up new old-stock Corvair parts and selling them at swap meets. One thing led to another, and then he was selling a few interior parts. Then he said, "Well, I can't get the interior parts anymore. The new old-stock is drying up. Maybe I can make the interior parts." One thing led to another, and today we have about 35,000 part numbers, all originating from that one Corvair interior.
The origins of Corvette America are not so different. The owner there had a big-block C2 Corvette. He crashed it, and, when he went to try to repair the car, he discovered that the parts of the car were a lot more valuable than the car itself. He said, "Maybe I should be selling Corvette parts." One thing led to another, and here we are 35 years later still selling Corvette parts.
PUI sells a wide range of upholstery components for American cars. Are there plans to add any foreign vehicles to the mix?
Yes. We are developing several non-American branded interiors. I can't say exactly what yet, but in the first quarter of 2016 we will be introducing non-American interiors. … Now, we're seeing a lot of interest in Japanese cars, 240Z's, Toyota Supra's, things like that.
PUI has a vast inventory of original fabrics and materials for classic cars, much of it in rare colors and grains. Would PUI ever consider selling material by the yard to auto upholstery shops?
Yes, we'll do that. We have material in several different ways. We have new old-stock material. … We can also take a blank piece of vinyl and put whatever grain is supposed to be in it from the factory. We can recreate the color too. That's not a problem. We pride ourselves on being original in our materials, in our appearance and in our construction.
We would certainly be willing to sell by the yard because we recognize that there are trim shops all over the country that are…specialized experts, and they're not necessarily looking for the completed seat. They want to create the seat themselves, go through it, and completely rebuild the seat themselves, much like we do. We recognize that, so sure. We would welcome inquiries about selling material.
Speaking of original material, how does RPUI ensure that its car seats are original?
We do two things that are different from our competitors.
First, we maintain an entire wall of original interiors. If you have a '67 Pontiac GTO with a green interior, we can go to our wall of original interiors and we can look at what that interior looked like, what was the spacing on the dielectric welds, what was the grain, what was stitching, was the stitching the same color, was it a different color, what was the spacing on the stitching? We can tell all of those things from the original piece there, and we also use those pieces to digitize the patterns, to cut the vinyl or leather. Once they go into our computer database, then we have our CNC cutting tables, and they will actually take a computer program and cut any pattern we want.
The second thing we do is we maintain a library of original car dealer books. … We have exact swatches of the original color and the original vinyl. … We have, not only what you would've seen at the car dealer 40 or 50 years ago, we have an actual piece that we can compare it to as well, so we have two different ways to make it perfect for your car.
Some of RPUI's competitors, including Legendary Auto Interiors and TMI Products, have begun selling custom interior components, like seats with unique patterns, larger sport bolsters, etc. Does RPUI have any plans to enter the custom market?
We are the largest restoration interior company in the world. Our strength is making it original. However, we recognize that there is a trend out there towards changing it from original. … We are looking right now at more non-original kinds of interiors, whether it's custom or hot rod or different types of seating, some more modern physiques, things like that.
What other new products or initiatives are in store for RPUI in 2016?
Well, we think there are still American cars that we previously didn't think of as restorable that are now coming onto the radar screen. So we think that there is a new influx of cars that are coming into the pool of cars to be restored.
People tend to want to restore what they grew up with. … What we're really selling is a kind of time machine, and it's a chance to go back and visit a special time in your life.
If you grew up in the 60s, then you probably want to do a Mustang, Corvette, or maybe Camaro or GTO. But if you grew up in the 80s, you probably want to restore a fox body Mustang or maybe a C3 Corvette. We're responding by adding more and more vehicles that, right now, are fairly inexpensive vehicles. … There are other examples of cars like that out there, IROC-Z's and things like that, that are great cars, fun-to-drive cars, great weekend cars, and, with a little bit of tender loving care, they can be really nice-looking and -driving cars again.
While we're on the subject of sales, what percentage of them is directly to end consumers as opposed to professional installers? And do you recommend your products to be installed by pros?
We are heavily wholesale. We do sell into the wholesale distribution and into the professional installer network. I look at it this way, if you're a consumer and you're on your fourth or fifth interior restoration, then you're probably pretty skilled by now, and you're probably going to do a pretty good job.
I would not suggest to a consumer to do it themselves the first time, or maybe even the second time, because there are little tricks of the trade. There is a way to make it good and there is a way to make it perfect. The professional is always going to make it perfect.
Aside from the United States, what other markets have a strong demand for classic American auto parts?
Well, it's interesting because we're finding a lot of interest in classic American cars in Australia. We're finding a growing demand in China because there is a developing amount of wealth in China, and they love American culture, and they love American products. We see a strong demand in the Middle East. Again, it's a concentration of wealth, and these cars are iconic parts of American history. Scandinavia is also a very strong classic American car market. Believe it or not, the U. K. and Germany are pretty strong Corvette and Mustang markets.
We heard that RPUI is also eying Cuba as a potential market. Can you tell us a little bit about that?
I was in Cuba about two months ago, and the reason we're interested in Cuba is because there are about 40,000 pre-1960 American cars down there. … They love their cars much in the same way that American car enthusiasts love their cars. It's a very similar passion. I think that bodes well for the relationship between our two countries.
That is a tailor-made market for car companies like us. … There is money in Cuba, but there is also a reluctance to mainstream the money. When Cuba moves more towards a free-market economy…there is going to be a lot of money flowing, and it's going to flow very quickly. Companies that understand the market are going to do very well, and the Cuban people are finally going to be able to buy the parts they need for their cars, instead of having to make everything.
What does the future hold for the automotive restoration market?
I think the future of the automotive restoration market is very safe for at least 20 to 25 more years, and probably beyond that. The reason I say that is because there are about 75 million baby boomers, and I'm one of them. A lot of us want a classic car. There are 75 million people out there that are starting to retire. They have time, they have money, and they love classic cars. That bodes well for the industry.
Beyond that time period, now we're talking about the kids of baby boomers, and now you're talking about kids who grew up with fox body Mustangs or C3 or C4 Corvettes, and so those are the kids that are really going to drive the future of the industry. … It's a rolling demographic, and it's going to keep rolling.
The key for companies like ours is to figure out what's the next big thing. We spend a lot of time discussing and debating that.
Well, Mitch, I really appreciate you taking the time today to speak with me.
My pleasure. It's great to talk with you, and I will certainly make sure that I'm a regular visitor to The Hog Ring. I appreciate the great work you guys are doing.
To learn more: Visit Restoration Parts Unlimited, Inc. online at RPUI.com.