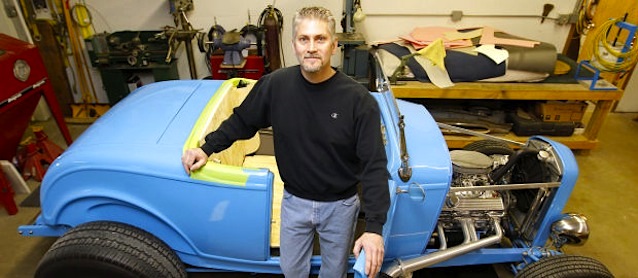 Congratulations are in order for Joel Mattix, owner and operator of Boss Custom Interiors in Evansdale, IA.
He is the trimmer behind "Checkered Past" – the 1940 Ford Coupe that won the 50th annual Ridler Award at the 2013 Detroit Autorama held earlier this month in Detroit.
According to Cedar Valley Business, a local paper which recently profiled Joel:
Mattix was one of numerous hot-rod experts — including custom car builder Andy Leach and paint specialist Charley Hutton — who worked on the car over two years. Mattix said he spent between two and three weeks on the project, providing two-tone leather seats with distressed leather inserts, Mercedes cognac wool carpeting and Classic Instruments gauges.
"I built the seats from scratch, pretty much upholstered the thing in three weeks, which usually takes me three months," Mattix said. "It's all done in European leather and suede. It was all high-end stuff."
He said he worked with Bob Thrash, a designer and fabric specialist based in Chicago. […]
For Mattix, working on a Ridler-winning project is a professional pinnacle.
"Every first weekend of March, cars from all over the world try to compete for this," he said. "I fortunately got to do the upholstery on it."
Please join us in wishing Joel a hearty congratulations! We'd also like to congratulate all the other pros who worked on this very special build, as well as owners Ron and Deb Cizek.
For more on Joel, including interesting tidbits on how he got started in the craft of auto upholstery, read the full article: "Evansdale man's passion for cars helps hot rod win coveted prize".
To take an up-close look at Joel's award-winning work, visit Hotrod Hotline.
Also, check out the Detroit Autorama's video on this year's competition: