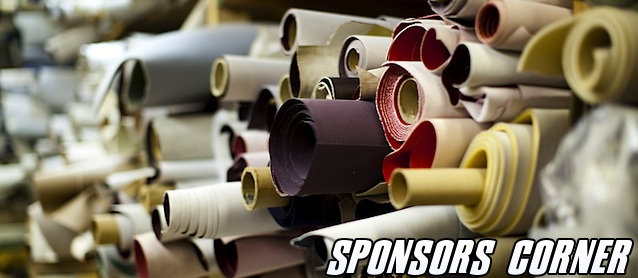 Check out this month's "Sponsors Corner" for news and updates from the companies that help keep The Hog Ring running.
In the latest issue of "DLT News", details on CAL-117, California's regulation for flame-retardant foam, is explained. DLT also breaks down why the regulation is changing and what effects, if any, it will have on upholstery shops.
DLT also announces Futura's new line of automotive vinyl, Revolution. Other great products highlighted include SEM XXX Gun Cleaner – which quickly removes grease, adhesives and dirt from spray equipment; and AquaTurf outdoor carpeting for marine projects.
What's more, DLT has released more details on its June 7 – 8 "Open House" event. Not only will vendors like SEM and Futura be present, but DLT will be running a staple-gun repair clinic. Bring your gun, they'll check it out and make repairs on site.
Lastly, check out part one of our exclusive interview with Sue of Discovery Channel's hit TV show Fast n' Loud on the back page.
Click here to download your free copy of "DLT News". For more information on DLT Upholstery Supply's products, contact (800) 458-3500.
"Keep in Touch" is always a fun and informative read – and April's issue is no different.
This month, Electron Top announces that its 2013 catalog will soon be out, with a new pricing format designed to make ordering easier. You can count on us to bring you more details when they're available.
What's more, Electron Top introduces new products – including OEM parts for 2000 – 2006 BMW "i" and "m" series vehicles. Electron Top has also started producing a convertible top for the 2007 – 2011 Jaguar XK. Given the company's reputation for producing quality tops, you can be sure it fits like a glove.
Of course, no issue of "Keep in Touch!" is complete without some food for thought. This issue features a short, but sweet, "Recipe for a Healthy Marriage". Among the ingredients – 2 loving hearts, and large quantities of trust and patience.
Click here to download your free copy of "Keep in Touch". For more information on Electron Tops' products, contact (800) 221-4476.
DLT Upholstery Supply and Electron Top have signed on to become sponsors of The Hog Ring – championing our cause to strengthen and grow the auto upholstery community, as well as helping to offset the cost of running this website.
Please show your gratitude and support by giving them your business.