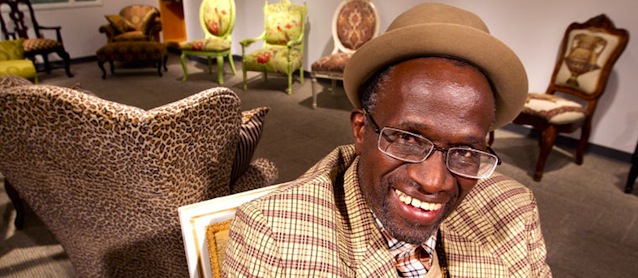 News & Record, a local newspaper in Greensboro, NC, recently profiled Franklyn Lewis of Mr. Coppers Upholstery – a full-service home, auto and marine trim shop driven from its location by a landlord who suddenly decided to sell his property to University of North Carolina at Greensboro (UNCG).
While the story sounds sad, it actually turned out quite alright for Lewis. In fact, the way UNCG treated him could serve as a case study for how to conduct business ethically.
Author Dawn DeCwikiel-Kane explains:
Hoover, the co-manager of UNCG's Elliott University Center gallery, never had spoken to Lewis.
But she tracked him down and made an offer: She would turn the gallery into Lewis' showroom for a month to show his artistry to the UNCG community.
So through June 30, the gallery will display Lewis' upholstery work.
Lewis smiles with delight as he stands in the gallery, surrounded by his upholstered chairs and a slideshow of photos of his work. […]
Although initially disappointed to lose that location, Lewis said he is pleased with the way UNCG has treated him. […]
Last fall, he learned that the property owner planned to sell to UNCG.
Lewis was dismayed. He had signed a five-year lease.
When UNCG project officials learned of the lease, "they said they would work with me and they would not put me out of the place unless we have an agreement that is amicable," Lewis said.
They bought him out of the lease, he said, and allowed him to stay rent-free until he moved home in February.
Granted, Lewis still lost his location. But sometimes business is business. At least he was treated with respect and aided in his transition to a new location. If all businesses treated us little guys with such regard, the world would be a better place.
For Lewis' full story, as well as how he went from a Trinidad street fighter to American trimmer, read "Displaced upholsterer gets exhibit at UNCG".