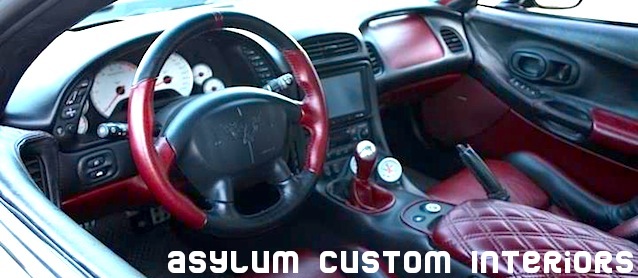 Congrats to Melissa Kaufman of Asylum Custom Interiors in New Derry, PA for being featured in this month's issue of Elite Streetz' Auto Effex (AFX) magazine.
In a two-page spread highlighting her work, author Ryan Bickford calls Kaufman the "go to gal for fine custom interiors." Furthermore, he writes:
She was telling AFX that her favorite interior to date is in a 2002 Corvette owned by Gary Ballard from VA. She did such an outstanding job with Gary's first 3 interiors he had her do a 4th. With beautiful leather wrapped seats and rollbars in a maroon/black diamond pattern makes this one of a kind Vette stick right out. Now, picture this overly built Vette sitting in your typical Corvette line up with his doors up and a stellar interior that will surely catch your eye.
To read the full write-up on Kaufman and Asylum Custom Interiors, check out pages 34 – 35 of this month's AFX magazine, available here for free digital download.
Want to be featured on The Hog Ring? If your auto upholstery shop was recently honored or featured in a magazine and you'd like to share that news with the auto trim community, let us know. We're happy to make that happen!