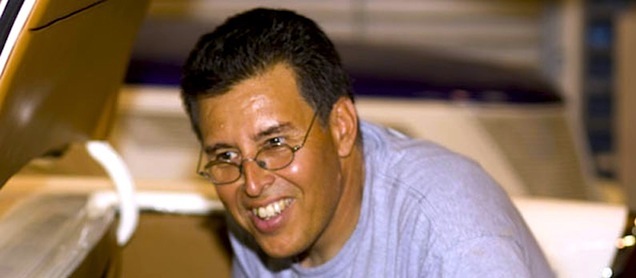 We at The Hog Ring are excited to share with you the first in a series of interviews that we call "10 Questions" – where we pose 10 questions to a master, innovator or business leader in the field of auto upholstery who we believe our community of auto trimmers can learn from or be inspired by.
Master auto trimmer Ron Mangus of Ron Mangus Hot Rod Interiors in Rialto, California has agreed to be our first interview.
Legendary interior fabricator Ron Mangus is more than a master craftsman. He's a passionate designer, dedicated teacher and successful businessman. For years, Ron Mangus Hot Rod Interiors has held a place among the few elite shops that lead our industry – and for good reason. It is second to none when it comes to the art and craft of auto trim.
Mangus' designs have won numerous awards, including "America's Most Beautiful Roadster" at the 2010 Grand National Roadster Show. His work can be seen at some of the country's most prestigious auto show, as well as the pages of magazines like Street Rodder and Super Chevy. What's more, he's published books on the subject of auto upholstery and even holds regular training seminars to share his tips and tricks with fellow auto trimmers.
As an upholsterer who shares Mangus' passion for the craft of auto trim, interviewing him has been a great honor.
1. You're definitely a master of your craft. Where did you receive your training?
I began working for my brother at the age of 15. The very introduction of auto upholstery comes from him. Through the years I have picked up pieces of knowledge here and there just by being active in the industry and trying.
2. Has Ron Mangus Hot Rod Interiors always specialized in hot rod interiors, or did you start off as an upholstery-repair shop and gradually shift focus?
When I was 18, I had an old Datsun pick- up truck and was a part of a Datsun pick-up car club. It was this old pick up that I started creating custom interiors. But, when I first started on my own, I worked out of my home garage and upholstered a lot of mini trucks, boats and did camper boats.
3. How large is your staff and what qualities do you look for in team members?
For me, I need people who know their way around a shop. What tools, how to use them, etc. I need a person who can design, fabricate and upholster…. It's important to know how to sew a straight line too!
4. On average, how many interiors does your shop complete in a year and how long does a full interior take for you to complete? Does your shop have a waiting list? And if so, how far in advance must customers book?  From how far do they come?
In a year it can be anywhere around 50+. A full interior can take 2-3 weeks. We have a waiting list at times…. most customers are booked 2-3 months in advance. We have done cars from many states… Hawaii, lots from Texas and Idaho and some from Florida, New York, Arizona, and some of the other southern states.
5. Do you prefer that your customers know exactly what they want, or do you like to have full creative control over the look and feel of the interiors you customize?
I actually prefer a happy medium. I want them to know what they want, but be comfortable enough to provide me with the ability to make changes, add or remove things that I don't think fit.
6. The automotive upholstery industry has traditionally been very secretive, with professionals reluctant to share tips and tricks of the trade. However, you've released a how-to book, DVD and continue to offer professional seminars at your shop. What inspires you to share your knowledge so openly?
I can't upholster every car in the country, but I can share my knowledge and help others who share the same passion for the industry with the tips and tricks it took me years to figure out. I have trained several of the very well-known trimmers in the industry and am thankful I had that opportunity.
7. Which trimmers or upholstery shops impress you the most?
The shops that impress me the most are those that can design, fabricate and cover anything, innovative shops.
8. What do you consider to be the most memorable moment in your auto upholstery career?
The first AMBR (America's Most Beautiful Roadster) in 1992.
9. What Challenges do you face being the owner of a business and also a trimmer at the same time?  Is it difficult balancing the business end of the company while still finding time to create interiors yourself?
I have truly been blessed with great help and a strong team. Everyone has weaknesses and bad days, but its how you pull through those that make a difference.
10. What does the future hold for Ron Mangus Hot Rod Interiors?  In your book 'Chevy Tri-Five Custom Interiors' you mention your son Ryan works with you. Is your shop a family-run business, and do you intend on passing it to your son when you retire?
It is a family run business in the sense that all members of the family take an active part in the business I've built. If it wasn't for them Im not sure things would be the way they are. My son Ryan plays a crucial role in this business and I am thankful for his dedication to me and this industry.
The future for me, if all goes as planned, includes a lot of teaching, training and simply just passing on all I've learned as a trimmer to other young people. To keep this industry alive we need the younger generations to take part in learning what old guys like me have spent years trying to master and build. A passion for cars, a love for the industry and a desire to being the best!
Interested in seeing some of Mangus' work? Check out the 1956 Chevy below as well as his shop's online photo gallery.