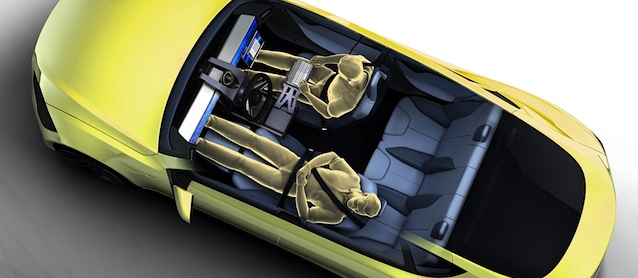 With self-driving cars on the horizon, automakers are increasingly asking themselves: How do we design car interiors where operating a vehicle is no longer at the center of the driving experience?
Swedish automotive design firm Rinspeed believes it has the answer.
The company, known for its unique and often-outlandish approach to vehicle design,  is set to debut a concept car at the 2014 Geneva Motor Show that aims to redefine the driver's seat.
Automotive blog Carscoops explains:
Since the driver will be reduced to a passenger like any other, Rinspeed believes significant changes must be done in the cabin make optimal use of the time gained by the former driver. […]
The company's proposal is a fully electric touring sedan called XchangE, which features all-new seats inspired by the relaxing business-class seats of major airlines, with similar sophisticated functionality. The study also uses a completely new operating and display concept with a series of new entertainment, safety and service functions.
According to Rinspeed, these features make it possible to work or relax in particular comfort while riding in the driverless car. A passenger can read, listen to music, surf the web, play games, watch movies or work while the car follows its journey. If it gets in the way, the steering wheel can simply be "parked" in the middle of the dashboard thanks to "steer-by-wire" technology that can also be found on modern jet aircraft. [more]
Think it's too much too soon? Industry experts predict that the first driverless cars will hit dealer lots by the end of the decade.