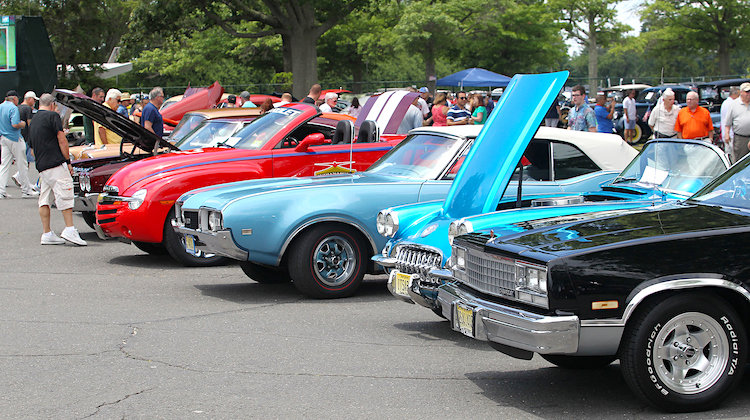 Spring is around the corner – which means car show season is upon us. What better way to promote your auto upholstery shop than by hosting one yourself?
A car show is an excellent way to tap into your local car scene, network with car clubs and drum up business. Plus, it's a lot of fun!
Best of all, organizing a show isn't as difficult as it sounds. I've personally organized and hosted a number of local car shows and the turnout has always been incredible.
Below are 10 tips to help you get started:
1. Put your shop's name front and center
Want car guys to remember the name of your shop? Then put it in the name of your show. Something like "Monroe Auto Trim's First Annual Car Show" works perfectly. No gimmicks, no glitz – just a straight up traditional car show.
2. Keep your show local
The most ideal location to host a car show is in your shop's parking lot. After all, the goal of the show is to promote your business and tap into the local car community.
If, however, your parking lot is too small, look around town for a better fit. High school parking lots work great and usually cost little to no money at all to rent. However, they may require you to rent porta-potties and pay for trash removal and insurance. But because this is a one-day expense, these shouldn't cost too much.
3. Pick a date that works
Sundays work best for car shows because most people are off of work. It's impossible to accurately predict the weather far in advance, so make sure to also reserve a rain date for the following Sunday. The best tip I can offer on choosing a date is to make sure that it doesn't conflict with an already scheduled show in your area. Otherwise, your turnout could be gravely affected.
4. Advertising like crazy
To get the best attendance for your show, you will need to advertise it like crazy. In my area, there's a car show almost every week in the summer time. So I make up flyers, attended each show and distributed as many as I can to spread the word. I even leave a pile of flyers at local parts stores, auto body and mechanic shops.
Lastly, I contact past customers to ask if they'll participate in the event. It's a great way to show off my work. Plus, they tend to tell their friends and family who also attend.
5. Bank on free publicity
Car shows draw up a ton of free publicity. Write up a press release and email it to the editor of your local newspaper. I've found that they're more than willing to write an article about community events in their publications. Also, contact your local television news station. They may be willing to film your car show and even interview you for the evening news. (Especially if you attach your car show to a charity.)
For each car show that I hosted, I contacted a local radio station in advance to schedule a live broadcast from our show. Aside from all the free promotion it gave us on the air waves, the DJ's also entertained our attendees with music.
6. Give back to your community
It's important for local businesses to give back to the communities in which they operate, and car shows can be a great way to do it. Consider donating proceeds from your show to a local charity or organization. Instead of charging a registration fee to participants, ask for a donation of any size to the charity.
Remember, your goal isn't to make money off of the event. It's to promote your business so that your customer base continues to grow. If you can help a local charity or organization in the process, then everyone wins.
7. Give away free swag
You'll be surprised at the amount of free stuff companies will donate to car shows – which, in turn, can be given away to participants. JEGS, for instance, is quick to send hats and magazines. While Summit Racing is always good for gift bags and stickers. At my last car show, Krispy Kreme donated 10 dozen donuts to give away.
So ask around and tell businesses that you'll list their names on your flyers in exchange. The worst thing that they can say is no.
8. Don't let attendees go hungry
You have two options for offering food at your show. You can either set up a table that sells sodas, pretzels, hotdogs, water, etc. and have a friend manage it. Or you can work out a deal with a local food vendor or ice cream truck to set up shop at the event.
Either way, don't overlook the importance of offering food at your show. People are going to be hanging around for hours and you don't want them to leave because they got hungry.
9. Award the best in show
Awarding prizes at your car show gives folks incentive to enter their cars. I prefer trophies because they look prestigious and aren't very expensive to have made. In fact, you may find that trophy shops are willing to trade their trophy-making services for free publicity.
Make a list of categories to evaluate participating cars and recruit a few qualified folks to do the judging. Awarding one trophy per category is plenty. What I like to do is display the trophies for everyone to see on the day of the show and create a little award ceremony at the end to hand them out. I usually ask the radio station to help me out with this.
10. Market your auto upholstery shop
Never forget that the goal of your show is to promote your shop. So make your rounds to introduce yourself and your shop to participants and attendees.
I recommend setting up a booth at the show with material swatches, business cards, brochures and photo albums of your best work. Also park a couple cars you've worked on at opposite sides of your table to display your skills. Dress professionally and be prepared to offer estimates and schedule jobs on the spot.
Questions / Thoughts? If you have any questions or tips of your own, feel free to leave them in the comments section below.