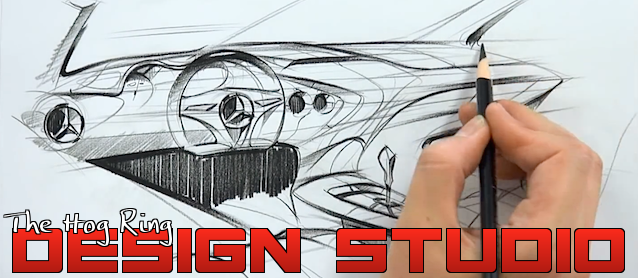 We've all heard the adage, "A picture is worth a thousand words." Well, no one holds that to be more true than auto trimmers — who, time and time again, struggle to explain design concepts to clients who cannot picture our visions for their interiors or simply lack an understanding of our craft.
The Hog Ring has set out to solve this problem with our latest project: The Hog Ring Design Studio.
The studio is an ever-growing collection of vehicle interior and seat renderings that we commissioned from automotive illustrators. Similar to a coloring book, the pictures lack color and detail, but provide a solid foundation for you to experiment on top of with various color schemes and design ideas.
Print the illustrations and make copies to keep on hand at your auto upholstery shop. When clients arrive for a consultation or estimate, break out a set of color pencils and use the drawings to collaborate with them on ideas. Make note of color swatch numbers and other details in the title box on the bottom right corner. Finally, have them sign off on drafts before stapling copies to their receipts. This will eliminate any chance of future confusion.
By providing trimmers with professional illustrations, we aim to make the client-consultation process easier and help you book more jobs.
So stop making excuses for rudimentary drawings. We're launching this project with two initial renderings and adding new ones each month. All will be available for free download on The Hog Ring Design Studio web page.