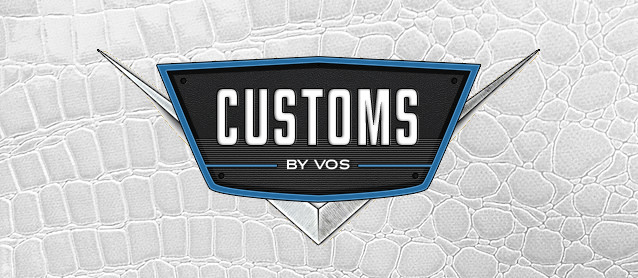 At just 32 years old, Dave Vos has already established himself as a master in the craft of auto upholstery — netting numerous awards, magazine spreads and, most importantly, the respect of his peers. In fact, his reputation and clientele are growing so quickly that his shop, Customs by Vos, is currently in the midst of a major expansion.
It's no surprise Vos is so good at what he does, auto upholstery is in his blood. Not only is his father a trimmer, but Vos was practically raised in his shop.
"I got my start at a young age," Vos told The Hog Ring. "My father, Harold Vos, has owned his custom upholstery shop [Vos Upholstery] since before I was born. So I grew up around hot rods and working on them."
"I believe I was around 7 or 8 years old when I first started stitching. Nothing too fancy, more or less just playing around. I was even younger when I pulled my first 'hog ring!'"
While Vos spent his childhood helping his father in the garage, schoolwork and sports eventually pulled him away from the craft. It wasn't until his early 20's that he rejoined his father at the sewing machine and got serious about learning everything he could about auto upholstery.
"This is when I jumped in headfirst and never looked back," Vos explained.
Under his father's guidance, Vos expanded his skillset, mastered the craft and learned the ins and outs of running a successful shop. Roughly eight years later, Vos and his father agreed he was finally ready to branch out on his own.
In January of 2011, Vos did just that — founding Customs by Vos in Lansing, IL.
Since then, Vos and his wife Dusanka have poured their hearts and souls into the business. While he handles the upholstery work and day-to-day operations, such as sales and marketing, she takes care of administrative duties and bookkeeping.
Chad Ross, a friend and part-time employee, collaborates with Vos on a lot of his projects.
"Chad is a very good friend of mine and a master fabricator," Vos said. "He has taught me a lot throughout the years. We enjoy working together on hot rods."
Three years on, Customs by Vos is renowned for combining modern, cutting-edge designs with excellent craftsmanship — which Vos says go hand-in-hand.
"I've always had an eye for design. Visualizing the interior for a hot rod and then getting to build it became addicting! And something I still find to be very rewarding!"
And rewarding it has been. Customs by Vos has attracted customers from near and far, won numerous interior awards at local and national car shows and has been featured in such magazines as Street Rodder, Super Chevy and American Bagger.
Commenting on all the notoriety, Vos said: "I'm not gonna lie, it's nice to see our work take home awards and get a magazine mention here and there, but the ultimate award is getting to go to work doing something I truly love to do every day!"
The future looks bright for Vos and his team. Business is booming, they've recently hired a new full-time employee, and just announced, Customs by Vos will be moving six miles east of its current location to a much larger, more modern shop in Griffith, IN.
Humble as always, Vos attributes all of his success to his father.
"I'm very thankful for my Dad, if it wasn't for him I wouldn't be doing this."