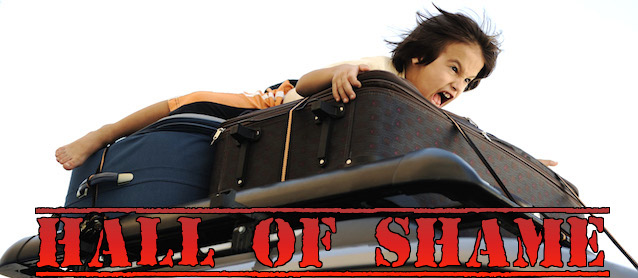 How much do you love your car's interior? Enough to force your kids to sit on the trunk while you drive home so that their wet clothes don't damage your upholstery? That's what one Texas woman recently did — injuring four children and earning her a top spot in The Hog Ring's "Hall of Shame."
The Smoking Gun reports:
Worried that her car's interior would get soaked, a Texas woman directed six children fresh from a community pool to sit atop her vehicle's trunk for the one-mile drive home Tuesday evening.
That decision resulted in Kisha Young's arrest when the children fell from the Chevrolet Malibu around 8:30 PM when the 38-year-old–who was allegedly intoxicated–made a sharp turn on a residential street in Crowley, a city 15 miles south of Fort Worth.
Four of the six children flung from the car were injured, with 12-year-old Octavia Watkins requiring hospitalization for a severe head injury. According to the Crowley Police Department, the six children range in age from 8 to 14. [more]
Clearly, Young isn't winning a "Mother of the Year" award any time soon. In fact, the police charged her with driving while intoxicated, assault with a vehicle, and causing injury to a child. Her bail was set at $110,000.
To watch a video report on the story, click here.
UPDATE / June 28: After suffering severe head injuries, 12-year-old Octavia Watkins has died. Kish Young has been charged with her death, according to reports.