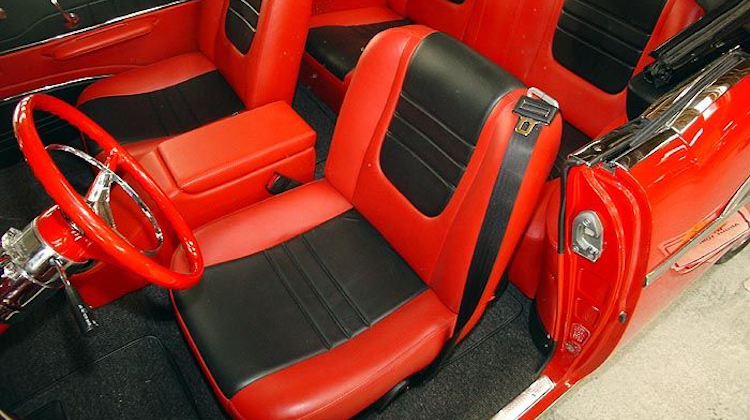 Lately it seems every car owner wants to swap his front bench seat for two buckets, or upgrade his existing bucket seats to a more stylish, comfortable or sporty set.
To a lot of folks, the swap sounds easy: simply unbolt the old seat and bolt in the new one. But auto upholsterers know that retrofits are rarely that simple. In fact, most require a lot of careful planning.
To help make the process smoother, we identified 7 factors to consider before agreeing to swap a customer's seats. Overlook any one of these factors and you might just find yourself in a bind.
1. Should you buy OEM or aftermarket?
Although the aftermarket offers a wide range of seating options, often times the better choice is an OEM set from a donor vehicle. In addition to the superb engineering and structural integrity of OEM seats, their parts are also more readily available — which makes repairs quick and comparatively inexpensive. If you buy seats from a salvage yard, they're also likely to cost less. Just make sure they're in good working condition before making the purchase.
2. Where do the seats come from?
When searching for bucket seats, keep in mind that those sourced from two-seat and four-door cars don't tilt forward. This is especially important if the car you're working on is a coupe with a backseat. If the seats don't tilt forward, passengers will have a hard time accessing the rear cabin and your customer will be seriously peeved.
3. Does your customer care for accessories?
Late-model seats come equipped with a range of accessories — including airbags, built-in seat belts, lumbar support, heaters, coolers, etc. Some of these features your customer will want to keep, while others he may want to eliminate. However, knowing which features he wants ahead of time can help narrow your search for the perfect replacement seat, cut down on extra work and even save your client money.
4. What about the seat tracks?
Seat tracks are a critical component to finding the right set of bucket seats for a car. Ideally, you want to fit the seats into the vehicle with as little modifications as possible. Unfortunately, with bolt patterns being different and floorboards being uneven surfaces, this usually isn't the case.
Also affecting the project will be your customer's preference for electric or manual tracks. If he chooses electric, wiring the seats is usually a simple process only complicated when the control switches are located on the door panel instead of the seat.
Regardless what work the tracks require, try to complete all the necessary fabrication before starting the upholstery work. Otherwise, you might damage the fabric.
5. How do the seats fit?
It's important to compare the dimensions of the old seats to the new ones. Otherwise, you may run into fit issues that can affect such important factors as head and leg room, steering wheel and console clearance, and even the driver's ability to see over the dashboard. When possible, do a test fit before committing to a seat.
6. How do the seats look?
Nothing ruins an interior more than bucket seats that look out of place. That's why it's important to choose ones that compliment both the interior and exterior styling of the vehicle you're working on. Factors to consider include a car's bodylines, trim and production period.
For example, if a car's exterior features curved bodylines and distinctive chrome bumpers, the cabin will likely look better with a seat that has round cushions and corners, and maybe even some chrome trim. If, on the other hand, the exterior is boxy and inornate, you should consider a simple seat that has a lot of angles and sharp edges.
You should also aim to keep the seats period correct. Otherwise, you run the risk of the style not matching. In recent years, seats in the 1963 Impala and fourth-generation Ford Thunderbird have become popular choices for hot rods.
7. Will the chosen seat limit your upholstery work?
Carefully examine the new seat's shape and listing type to ensure it will work with whatever upholstery design your customer wants. If not carefully accounted for, these two factors can limit your ability to bring a customer's vision to life.
A desired seat cover pattern, for example, may not be feasible if required seams get in the way. The seat's listing type — hog rings, Velcro, clips, glue, etc — will also affect how well a seat cover sits atop the cushion.
Keep in mind that with late-model seats you can order high-quality leather seat covers in a variety of color combinations and insert patters from aftermarket suppliers, saving you and your customer time and money.
In Conclusion: Recognizing these 7 factors will allow you formulate a solid game plan on how to tackle a seat swap, and achieve the best possible results for your customers.