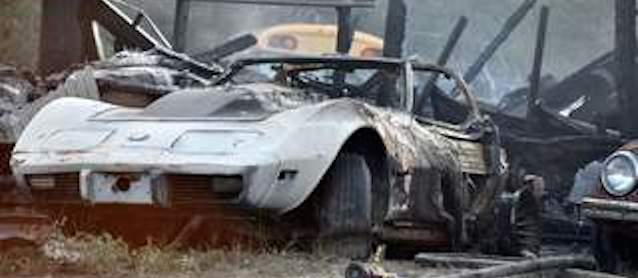 With heavy hearts, we report this morning that D&B Auto Sales – an auto upholstery shop and dealership in Aiken, SC – burned to the ground on Sunday. No one was hurt in the blaze, but the 20-year-old business' future was left in question.
"I lost my livelihood, my tools, air compressor, cars and everything," business owner Daren Watkins told the Aiken Standard. "I don't know if I can recover from this."
Among the vehicles destroyed in the fire were a 1976 Chevrolet Corvette and classic Volkswagen Beetle. Watkins told NBC's local WAGT 26 that he also lost ten thousand dollars worth of fabric that was recently ordered and stored in the building.
"I lost my license, my paperwork, all my titles, everything," he said. "I don't know if I'll ever be back."
Sadly, in this industry — where keeping flammable chemicals and materials in inventory is necessary — fire is always a risk. However, you can limit the danger and damages by storing combustable items properly, ensuring that your building is up to code and never allowing your insurance policy to lapse.
For more tips, read "Guarding Your Shop From Natural Disasters." It provides some helpful advice on how to limit your losses in the event of a fire.
Please keep the Watkins family in your thoughts and prayers.