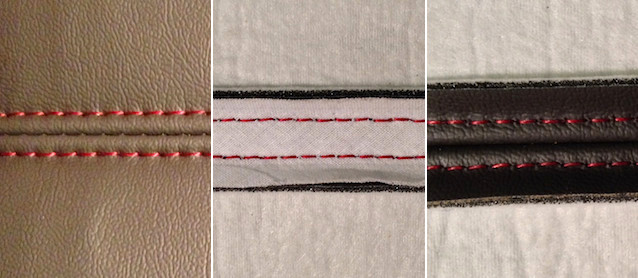 To back or not to back? That is the question. We want to know where you stand on reinforcing French seams.
When I was first taught how to sew many years ago, I was instructed to always back a French seam with listing tape to strengthen it. It's a habit I still carry to this day, yet as the years go by I notice that less OEMs are doing so and I'm wondering why.
Everyone knows the basics of a proper French seam. After sewing two pieces together, you fold half of your seam allowance to the left, half to the right and sew a line of stitches over each equidistantly from the center seam. Simple as a dimple ain't it?
The only question is: Should you back French seams with listing tape or some other cloth to strengthen them? Whereas proper instruction says "yes," automakers are increasingly saying "no."
I first noticed it when airbags became commonplace in car seats, and figured it made sense to make their stitches purposely weaker so that the bags could burst through seat covers. But that only explains the driver and passenger backrests. Why then are entire seat bottoms and rear seats being sewn without any reinforcement on their French seams?
What do you think? Do you reinforce your French seams? Is it even necessary? If so, why are automakers failing to do it? Let us know your thoughts in the comments section below.