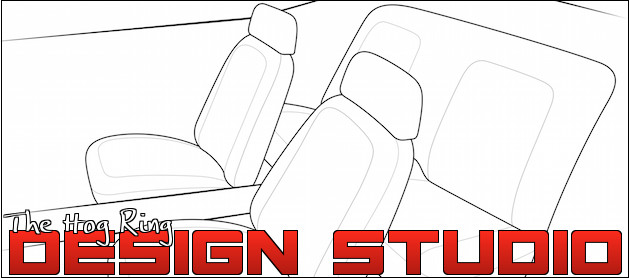 The popularity and timeless design of the 1967-69 Chevrolet Camaro have made it a staple at car shows – and trim shops – across the world, which is why we're excited to add it to The Hog Ring Design Studio.
Our Design Studio is a growing collection of vehicle interior sketches that lack color and detail, but provide a solid foundation for you to experiment on top of with various color schemes and stitch patterns.
This month, we introduce two renderings of the first-generation Camaro's iconic interior. The sketches show 3/4-angle views of the Camaro's cabin. The front and rear seats, door panels, console, and package tray are all visible and await your customizations. The two drawings are nearly identical except for the addition of headrests in one to represent the 1969 Camaro, which was the first model year they were available.
Remember to use the title block in the right corner to note material and color choices, as well as to have your customer sign off on the final design.
The Hog Ring's goal is to simplify the customer-consultation process by providing every auto upholstery shop with the opportunity to produce professional vehicle interior renderings. Please visit our Design Studio to download, print and use the renderings free of charge — and look out for next month's additions!