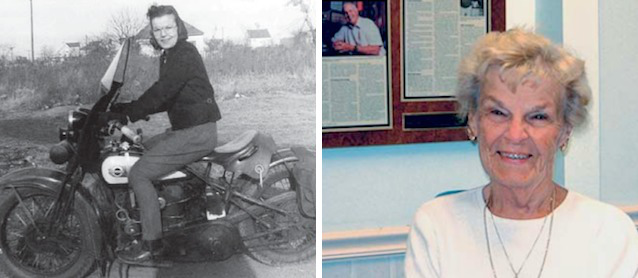 It is with great sadness that we inform The Hog Ring community of the passing of Catherine "Kitty" Strauss, loving matriarch of the Electron Top family.
Kitty, along with her late husband Fred, saw Electron Top through it's founding in 1960, and helped anchor the family business through both good and bad times. Without a doubt, her hard work, dedication and guidance helped grow Electron Top to become the industry leader it is today.
Although we didn't know Kitty personally, like many auto trimmers, we feel as if we did. Each month, daughter Kimmy would share her mother's stories and life lessons with us in Electron Top's newsletter "Keep in Touch!" — a staple in nearly every auto upholstery shop in America.
This month's issue is no different. Kimmy writes…
Our Mom "Kitty" Strauss passed away quietly at her home of 64 years, days following her 92nd birthday celebration.
It has been said that "The human language is inadequate in expressing heartfelt emotions"; the pain of losing our Mother is severe and sometimes paralyzing; yet we are so very grateful and feel so very privileged for the time we had together. Mom was a constant companion, loving friend and an incredibly strong woman that was a ballast in our lives both at home and here at Electron. Mom loved coming into work on Mondays and continued to do so up until her last month.
She promoted a strength and wisdom admired by us all.
A profoundly positive woman, she never let life pose a negative shadow on anything she did; she seemed infallible in her beliefs which carried her through her whole adult life. Mom worked like a man but acted like a lady and had simple elegance that was not begot with the use of expensive props or wear, but was procured by the manner in which she conducted herself; she was a true lady whom could never shed a nasty word or act. Mom appreciated people's human nature and did not scorn them for being such, but found ways to seek forgiveness and implored that we do the same. "Write your blessings in stone and your hurt in sand" she often recited.
Mom did not want her death to be mourned but insisted we remember the wonderful life we had together and all the beautiful memories of times that we shared. "Don't shed a tear over something you cannot change"; her unselfishness was paramount in death as well as it was in life.
Our existence will forever be changed … as the void of her physical presence will always be missed. [read more]
Please join us in extending our deepest condolences to Kitty's children Craig ("Skip"), Fred III ("Rick") and Kimberly ("Kimmy"), as well as the entire Strauss family and Electron Top team.
Rest in peace Kitty.