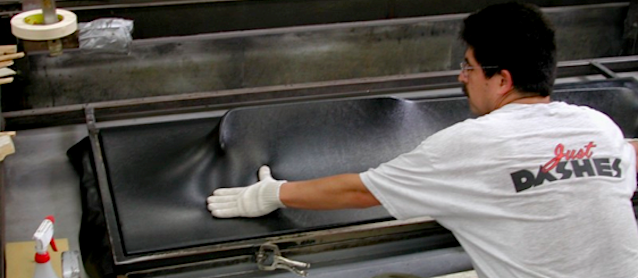 Most auto upholstery shops repair vehicle dashboards by either installing a replacement dash pad or covering the old one in new foam and vinyl. However, there is a third option that's all too often overlooked – sending out your customer's dashboard for thermo vacuum forming.
The quick and inexpensive fix is to order a replacement dash pad from an aftermarket supplier, like Coverlay. While these covers are designed to install right over your customer's old dashboard, they're not available for every model vehicle. And, like most aftermarket parts, they can lack OEM fit and finish.
For better results, I hand-wrap damaged dashboards in new foam and vinyl. The process can be more time consuming and expensive, but ends up looking much better. Of course, this method also has its drawbacks. Even with recent advancements in vinyl-stretch capabilities that allow for four-way and even six-way stretch, not every dashboard can be covered by stretching alone. In some cases, unwanted seams are necessary to get the vinyl to fit properly over complex curves and edges.
For the best results – especially when working with complex dashboards – use thermo vacuum forming. Through this process, a machine bonds heated vinyl evenly over the entire surface of a dashboard by sucking out all of the air between the two pieces. Auto upholstery shops that aren't equipped to provide this service, can send out for it.
Just Dashes in Van Nuys, California specializes in thermo vacuum forming. Mail them your most damaged dashboard and they'll return it to exact factory specifications. They even restore consoles, armrests and other trim parts.
Check out this quick five-minute video to see exactly how they do it: