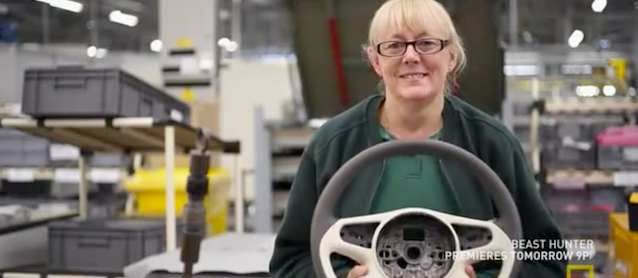 Believe it or not, wrapping the Mulsanne's steering wheel in leather is such a complex task that only four trimmers at Bentley Motors know how to do it. National Geographic highlights two of those craftsmen in a recent documentary titled "Ultimate Factories: Bentley Mulsanne."
In the film, Bentley trimmers Cath Green and Kev Brown explain that the Mulsanne's steering wheel requires eight separate pieces of leather, and that the job can take up to 15 hours to complete.
"If everything goes according to plan, then we'll be going off the bench around dinner time. But of course it doesn't always go according to plan," Kev says about the hours-long project.
Cath adds: "The most difficult part that we find sometimes is the back of the wheel because we have got to stretch hide where it doesn't want to go and you've got to stretch it to go into positions of the wheel."
Of course, the entire project is done by hand using old world techniques — perhaps including the dinner fork trick that Bentley trimmer Noel Thompson highlighted in a previous article.
The video, posted below, covers the Mulsanne's entire build. To only watch the parts about the steering wheel, skip to 25:57 and afterwards to 29:46.