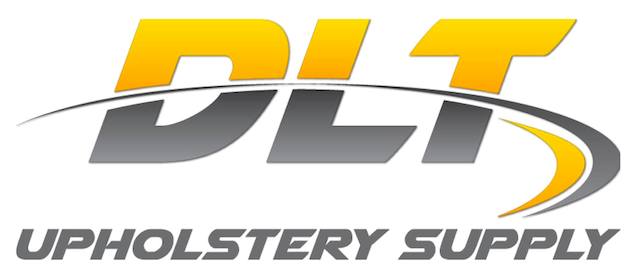 DLT Upholstery Supply's November newsletter has it all — new products, great sales, shop tips and, of course, a feature article by The Hog Ring.
With New Years celebrations right around the corner, The Upholstery & Trim News kicks off with an overview of all the supplies you'll need to keep those party bus and limousine interiors in top shape. From zig-zag springs to Auto Revolution and Futura vinyl, DLT has what you need — and it's all priced to sell.
On special promotion this month is celestra — which some upholstery shops call cambric, accord, black-bottom or even a dust cover. It's that thin black or white fabric upholsterers use to finish off the bottom of furniture.
DLT's celestra is a 1.25 oz. spun-bonded polypropylene with a diamond pattern that allows it to stretch only in one direction, keeping it dimensionally stable in use. It's available in a 36" wide, 100-yard role and retails this month for just $60 per roll of white and $65.98 per roll of black.
What would an issue of The Upholstery & Trim News be without some shop tips? This month, DLT reminds us to raise the pressure in our air compressors to overcome the increased viscosity from the cold temperature outside. Most shops should use a pressure between 70 to 90 psi.
That's not all! DLT Upholstery Supply recently unveiled two new programs — one to allow trim shops to place orders by text and the other to promote our best work. Check out the details below: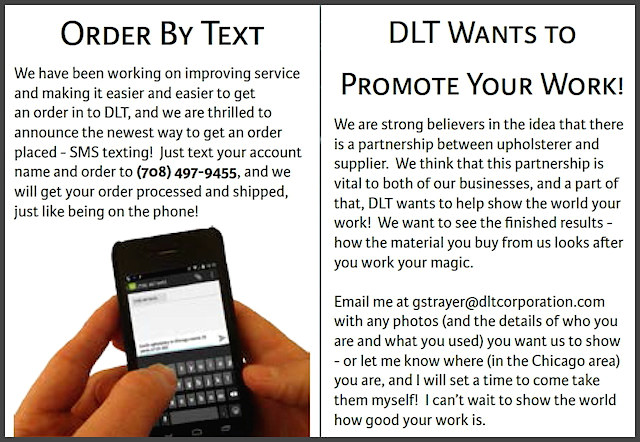 Lastly, check out the back cover for The Hog Ring's exclusive interview with Matt Williams, director of business development at Haartz Corporation. He talks about the growing problem of knock-off and inferior convertible tops, as well as what we – as an industry – can do to counter it.
Read the newsletter! Download a free copy of The Upholstery & Trim News to learn about more sales and promotions by clicking here.
To set up a business account with DLT Upholstery Supply, visit them on the web at DLTCorporation.com or give them a ring at (800) 458-3500.