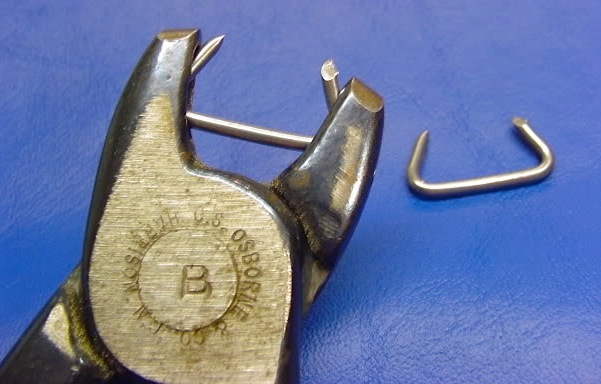 Not every tool you own needs to be a Snap-On, Matco or Craftsman. Sometimes a cheap, average-quality tool will do just fine. However, there are some tools that no auto upholstery shop can afford to skimp on. In some cases, they may be expensive – but they're necessary because we depend on them to make our work more efficient and effective.
These tools are unmistakable. You'll know one the moment it fails you. You'll be in the middle of a job when all of a sudden your cheap tool breaks in half, holding your shop hostage for hours. Worse still, it'll cause you a nervous breakdown because you'll realize that you have no one to blame but yourself. After all, if you hadn't been too cheap to cough up a few extra bucks to buy the better model, it never would have happened.
Believe me, it's not worth the aggravation.
Too avoid the headache, I've compiled a list of the 10 tools your auto trim shop can't afford to skimp on.
1. Steamer
Every auto upholstery shop needs a quality steamer. Without one, it would be impossible to get those last few wrinkles out of convertible tops or stretch and tighten vinyl seat covers. I have a two-gallon Hoffman Pressure Steamer that handles every job I put it through.  Brand new it costs about $1,600, which is expensive until you consider that I've had it for over 15 years. When you do the math, that's a little over $100 a year – well worth the price.
2. Scissors
What auto trim shop can afford to operate using cheap scissors?  My supplier sold me German-made 10" Kretzer Finny Scissors last year for $35 and I absolutely love them.  The ice tempered stainless steel blades cut through leather, cloth, plastic, vinyl and cardboard like butter.  I recommend them to everyone.
3. Sewing Machine
This is a no-brainer.  It doesn't matter whether your sewing machine is a Singer, Pfaf, Juki, Brother or Consew. As long as you're operating on an industrial strength walking-foot machine with a wide array of feet, you'll be in good shape.  I wouldn't trade my Singer 111w for the world.  It's well over 50 years old and still runs perfectly. All I do is keep it oiled and call to have it serviced once a year.
4. Cutting table
Take time to construct the right cutting table for your shop.  It must be level, smooth and large enough to roll out your material on.  Also make sure that the area it's constructed in is well lit.  I connected my sewing machine table directly to my cutting table, which allows me to sew large covers more easily.
5. Measuring devices
I use rulers more often than any other tool in my shop. I keep them right by my cutting table.  It's important for all shops to have 12", 36", 48" and 60" straight edges. A high-quality steel carpenter's square and tailor tape are also a must. Make sure your rulers are metal, so they don't ware or warp, and easily readable.
6. Staple Gun
The right tool can make your job so much easier, and staple guns are no exception.  While there are many types of staple guns, the best ones for auto upholstery are 3/8" and 1/2" crown.  Most shops have a snub-nose gun, but should also consider getting a 2" long-nose gun to get in those deep, hard-to-reach places.  I just bought a Spotnails JS5016LN Long-Nose Stapler for a $130.  It's my first long nose stapler and now that I've used it, I don't know how I ever got along without one.
Having a quality air compressor to operate your gun goes without saying.
7. Fork
A quality fork, or stapler remover, is yet another tool upholsterers shouldn't skimp on.  Nothing beats a comfortable fork with sharp tips. High-quality steel is essential so that it doesn't bend or break while removing stubborn staples.
8. Hog Ring Pliers
A quality pair of hog ring pliers can last decades. However, don't get caught in the hype of automatic hog ring pliers.  They're overrated and much too bulky to get into the types of tight spaces auto upholsterers need to reach.
9. Electric Foam Saw
For years I cut foam with scissors, razor blades, hacksaws and even kitchen knives.  Believe me, an electric foam saw is well worth the investment.  Most people are hesitant to buy one because they can cost upwards of $350. However, if you find one used you can get a good deal. I bought a Bosch foam saw from a retired furniture trimmer for $20. It has never let me down.
10. Glue Gun
I used to own a pressure-feed gun with a one-gallon pot and long hose. But there were way too many parts and too many places where things could go wrong.  Glue kept clogging the gun and I wasted too much time trying to fix it.
I eventually switched to a siphon-feed gun with a one-quart pot attached directly to its base from Harbor Freight Tools. The whole set up only costs $30 – a fraction of the price I paid for my old one-gallon pot. The downside is that it only lasts about a year. But with the price so cheap, I just throw it out and buy a new one when it dies.
Of course, the smaller pot means I have to refill my tank with glue more often. However, that's a minor inconvenience compared to the headache of constantly repairing glue-clogged guns.
…Hey, occasionally you can get a better product for a cheaper price!
We want to hear from you: Based on your experience, what tools would you add to the list? Do you have any brand or model suggestions that you think other auto trimmers should check out? How about ones you think we should steer clear of? Any advice that you could provide would go a long way to helping other auto trimmers out.
— — —
The Hog Ring is the #1 online community for auto upholstery professionals and enthusiasts. Here you can browse pictures, read news and connect with others who share your passion for auto upholstery. You can even check us out on Facebook and Twitter!