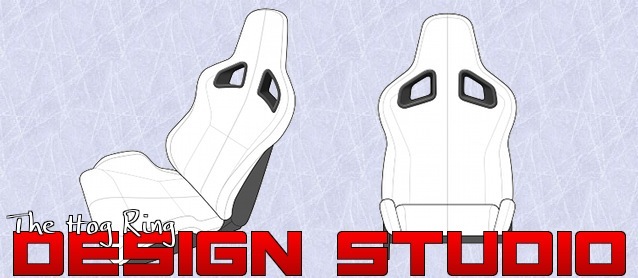 Once strictly a product of the aftermarket, racing seats have become so popular that automakers are installing them in production vehicles. But as cool as they are, racing seats present certain challenges to auto upholsterers — which is why it's always a good idea to sketch out a game plan before making a single stitch. To help you do just that, we've added a racing-style bucket seat to The Hog Ring Design Studio.
If you don't already know, our Design Studio is a growing collection of seat and automotive interior sketches that lack color and detail, but provide a solid foundation for you to experiment on top of with various color schemes and stitch patterns. Basically, it's a coloring book for auto upholstery professionals.
This month we've added to the collection a front and 3/4 angle view of a generic racing-style bucket seat. A center line and seams are made visible to help you align your patterns in proportion to the seat.
Print the illustration and make copies to keep on hand at your shop. When clients arrive for a consultation or estimate, break out a set of color pencils and use the illustration to collaborate with them on ideas. Make note of color swatch numbers and other details in the title box on the bottom right corner. Finally, have them sign off on drafts before stapling copies to their receipts. This will eliminate any future confusions or disputes.
Through The Hog Ring Design Studio, we aim to simplify the customer-consultation process by providing every auto upholstery shop with the ability to produce professional vehicle interior illustrations.
Please visit our Design Studio to download, print and use the illustrations free of charge — and send us your finished renderings for a chance at having them featured on The Hog Ring!