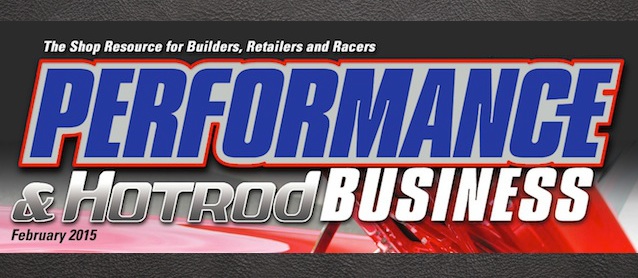 Check out the February 2015 issue of Performance & Hotrod Business Magazine to see a 1957 Chevrolet Nomad Bel-Air built and upholstered by Johnny's Auto Trim & Rod Shop of Alamosa, Colorado. The vehicle is a beauty in its own right, but when you consider that the entire interior was wired and upholstered by Ryan Martin — the 22-year-old son of owner and operator Johnny Martin — it's all the more impressive.
Below is an excerpt from the article explaining Ryan's role in the build:
"The coolest thing on this project is this is the first one that my son Ryan took over. He did every thing on it," [Johnny] Martin says. "He came across some challenges he hadn't come across before. He's only 22 and he wired it, he put it all together, he upholstered it himself. So for me, this is the best part, and you see how it turned out."
"When I started working with Johnny, his son Ryan was only 2 years old," [vehicle owner Mel] Medina recalls. Now Ryan Martin is following his father's foot-steps. "I never expected that the little guy running around the shop would be the guy who turned out this beautiful job. It was Ryan who created this sleek design—pretty impressive for his first major upholstery!"
The sleek interior design and sleek execution includes custom raised and shaped floor panels, custom shaped front bucket seats and matching rear bucket seats, with billet accents and a leather high-lighted dash. The fabricated console and package tray is home to a Kenwood audio system, controls for A/C, power windows and door openers, and a custom shifter setup. The console also has storage accessible from the rear; all with matching billet accents throughout.
Who says the craft of auto upholstery is dying? If this '57 Nomad is any indication of what we can expect from the next generation of trimmers, I'd say we're leaving it in good hands. To read the full article and see more photos, click here and turn to page 66.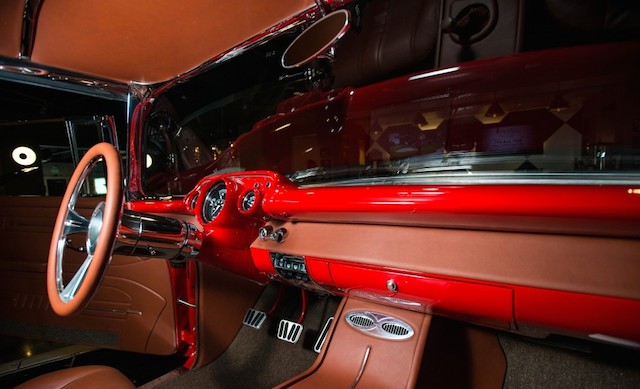 [Photo by C. Davis for Revvolution]