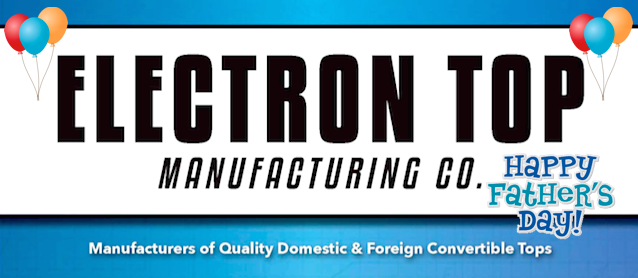 Electron Top's latest issue of "Keep in Touch!" is a must read — featuring helpful information on new products, notes about old ones, and even a heartfelt Father's Day dedication.
The team kicks off the issue with news that Electron Top carries 2004-2009 Toyota Solara OEM replacement rain gutters, as well as a repair kit for salvageable ones designed to save you and your customers money.
Electron Top also highlights a warning included with ever 2004-2009 Nissan 350Z top they sell — noting: "It is imperative that the instructions WE provide are adhered to or the new top can tear." They proceed to list two issues that can cause damage to the top, so it's very important that you read the warning and heed their advice.
Last, but certainly not least, the women of Electron Top (Fina, Tracy, Cathy and Kimmy) end this month's newsletter with a sincere Father's Day dedication to Skip, son of company founder Fred W. Strauss Jr. and go-to guy for everything technology.
Skip, as most of you know, is responsible for Electron Top's patterns, computer programs, and sewing and heat-sealing technology. But what you might not know is that he's also a great dad, role model and all-around inspiring guy.
His sister Kimmy, who's also Electron Top's office manager, writes:
Skip…I see the job you are doing, and have done, with your children and know they too realize the special person they have for a father. You have an incredible amount of knowledge (which from a sibling's point of view sometimes annoys me) which is a pool you unselfishly allow us all to draw from.
I enjoy working with you and am so very grateful for the relationship that WE have not only as sister and brother but also as coworkers. You are not only a terrific father but a wonderful friend. Happy Father's Day!
Check out Electron Top's newsletter below: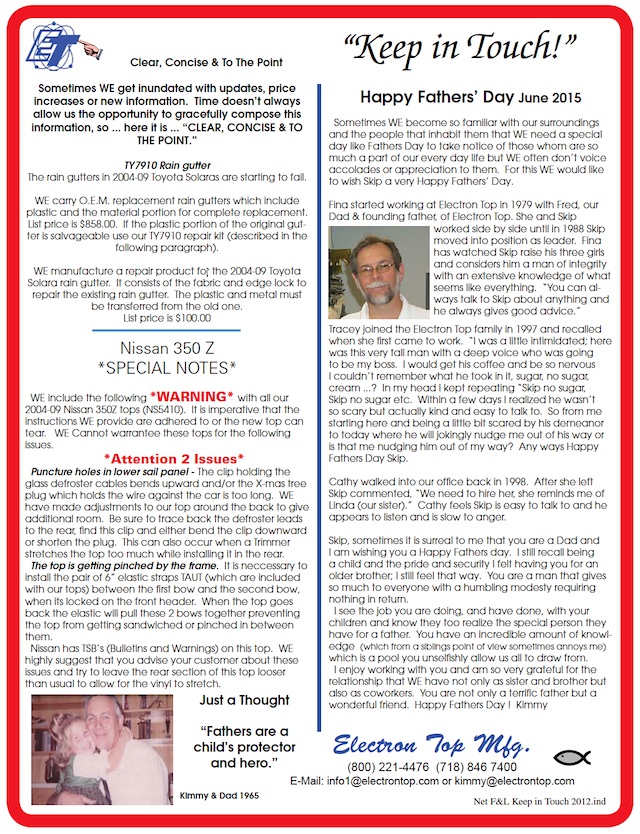 To learn more about Electron Top's quality products or to set up a business account, visit ElectronTop.com or call (800) 221-4476.