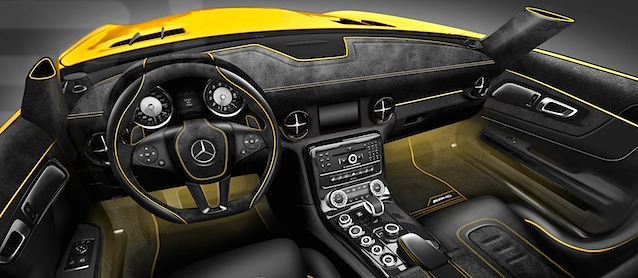 What happens when Polish automotive trim shop Carlex Design gets its hands on a limited-edition Mercedes-Benz SLS AMG Black Series? Jaws drop and drool drips — that's what!
One of the few people on this planet who owns an SLS recently asked the Carlex Design team to go to town on his super car. He said they could do anything they wanted so long as it was luxurious and gave a nod to its GT3 race car roots… and boy did they deliver!
Car news website Auto Evolution explains:
To say that the result is bewildering would be a huge understatement, with the new Carlex interior being a symphony of Alcantara, leather and real carbon fiber.
The entire dashboard is now covered in Alcantara, as are parts of the seats and the headliner, while the remaining visible parts are exclusively covered in sumptuous leather and carbon fiber, creating an interior atmosphere not unlike a luxurious variant of a racing car.
Since the SLS AMG Black Series' exterior is already derived from the SLS AMG GT3 Customer Racing car, its new interior fits it like a glove, while the car's performance figures already leave nothing more to be desired right from the factory. [more]
In short, Carlex Design created exactly the type of interior you'd want to see in a super car that's equipped with a 6.2-liter V8 engine that puts out 631 horsepower and can blast from 0 to 62 mph in just 3.6 seconds.
But don't take our word for it, see for yourself…