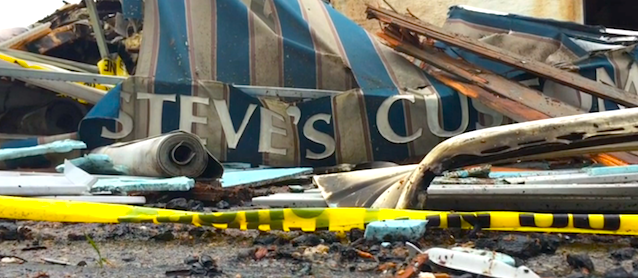 Steve's Custom Canvas & Upholstery in Webster, New York, was destroyed in a fire last month after powerful winds knocked a piece of the building's metal siding into a power line, igniting a blaze so fierce that it caused the roof to collapse.
Business owner Steve Palis was inside the building at the time and took swift action to limit damage by removing some cars, boats and flammable inventory from inside the 9,000 square foot facility. Though no one was hurt in the blaze, fire crews said the building was a total loss.
"I pulled all the boats out last night, when the fire had started in the corner outside, I pulled everything away…All these boats were against the building, every one of them. I had some help last night, two boats were inside, and I pulled out a lot of work that was for customers." said Palis.
Steve's Custom Canvas & Upholstery – which specialized in all types of upholstery, from auto and marine work to awnings – had been in business for 22 years. A message posted to the shop's website said Palis is not currently accepting work, but in the process of setting up a temporary facility.
While it's impossible to prevent freak occurrences like this, auto upholstery shops can implement measures to limit their losses— such as storing combustible items properly, ensuring buildings are up to code and never allowing insurance policies to lapse. For more tips, read "Guarding Your Shop From Natural Disasters."
To Steve's Custom Canvas & Upholstery, we're rooting for you to come back stronger than ever!