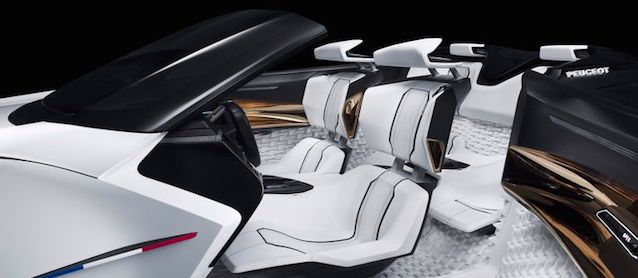 In addition to a state-of-the-art sewing machine, auto upholstery shops of the future may also be required to own a 3D printer— especially if Peugeot has its way. The French automaker just unveiled its new Fractal concept car, an electric coupe thats interior is nearly all printed.
Although Peugeot is not the first automaker to 3D print interior components, it is the first to do so in a way that enhances its cabin's acoustics. News website 3D Print explains:
Peugeot's Citroen research unit, StelLab, and Focal, a French electro-acoustic sound system firm, have created a 13-speaker sound design that features "tactile bass systems" which are built into the back of each seat to create what the companies says is the 'spatialization' and 'dynamization' of the acoustic environment inside the car.
Designed and developed in partnership with sound designer Amon Tobin, the Peugeot Fractal also includes a heads-up display with an HD holographic screen and a polycarbonate strip that delivers additional information and creates an impression of depth.
They call the car an "ideas incubator," and 3D printed parts represent just over 80% of the interior trim surfaces in the vehicle. The design uses anechoic materials formed via generative design. These anechoic chambers, while they reduce the intensity of sound waves and noise levels, also tune the sound environment by causing those waves to bounce from one surface to another, and Peugeot says the design would have been impossible to create with conventional methods.
Covering more than 15 square meters of the car's interior, the design process used algorithms to correctly configure the materials to ensure acoustic efficiency, and 3D printing allowed the team to create the highly complex parts and surfaces required.
That's not all, the Peugeot Fractal also features 3D printed fabric on its seats and other surfaces inspired by materials used in recording studios. Altogether, Car Design News calls it "the most comprehensive re-think of the sonic properties of the car in recent history."
In the future, when more cars feature 3D printed components, it may actually become necessary for independent shops to own their own printers. Having such technology in-house could also make it easier to repair broken trim and acquire hard-to-find parts for older model vehicles.
Imagine if every time you broke an interior clip you could just print a new one out… how cool would that be?