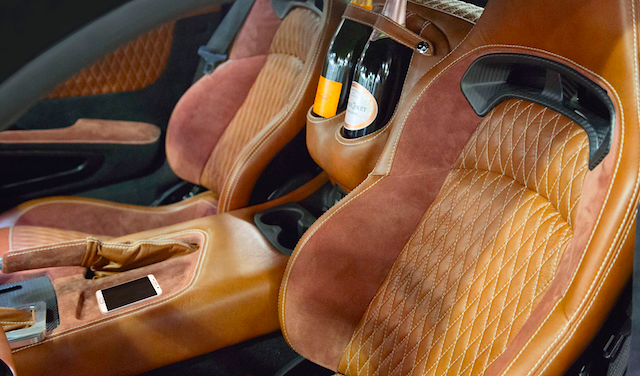 If you're planning to attend the North American International Auto Show (NAIAS) in Detroit, Michigan, this weekend, be sure to peek inside the VLF Force 1 — a Viper-based supercar developed by former General Motors Vice Chairman Bob Lutz and world-renowned automotive designer Henrik Fisker.
The Michigan-built engineering marvel packs a 745-horsepower V10 engine, has a top speed of 218 mph and can bolt from 0 to 60 in only 3 seconds. It's also quite the looker — with gorgeous curves and body lines, and one hell of a mean stance.
However, the VLF Force 1's handcrafted interior is what caught our attention, especially the leather champaign bottle holster located between the driver and passenger seat. Of course, we've seen vehicle-equipped champaign coolers and even cabinets before, but the holster is definitely an industry first.
Curious about the feature, Michael Ballaban of Jalopnik caught up with Fisker at the auto show to get his take:
After conceding that giving two bottles of champagne their own seats, complete with belts for their own safety and everything, was "almost a joke" and a "bit of fun," Fisker actually brought up a great point about people who probably are great at parties but for only a little while.
"You're driving to a party, and you're bringing some champagne, of course," he told me at the Detroit Auto Show. "But where are you going to put it? In the footwell, rolling around?"
This was obviously a predicament. One cannot have champagne bottles just rolling around, in the footwell.
"This is a much better solution."
Never mind the absurdity of an in-cabin alcohol compartment, which is sure to be abused, I couldn't get past the rich people problem Fisker was trying to solve. Do folks with $300,000 to spend on a car really struggle with wear to put their champagne?
More importantly, though, the excellent handcrafted interior was completed by Dan Miller Auto Upholstery in Westlake Village, California.
To see exterior photos of the VLF Force 1, visit Jalopnik.